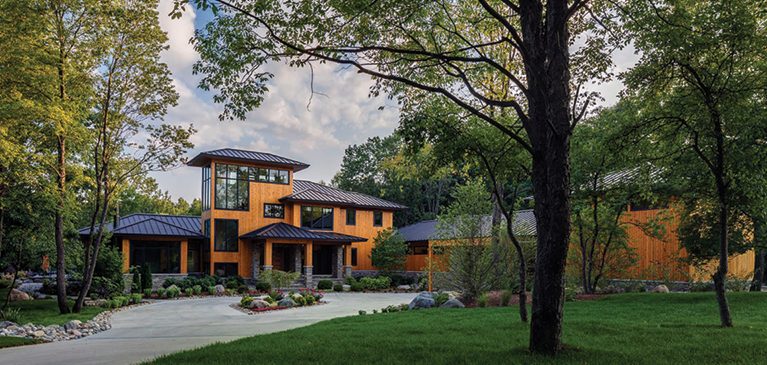 As successful business owners in southeast Michigan, Marc and Sharon Gemellaro are accustomed to working with banks and other financial institutions, but when they wanted to obtain financing for vacant land they hit a snag.
"I had no idea it was so difficult to find financing for vacant land with reasonable terms," says Marc Gemellaro, president and principal of GSI, a security and networking firm. "Fortunately we found GreenStone through an internet search."
The Gemellaros recently built their once-in-a-lifetime dream home on 70 acres in northern Oakland County. The three-year endeavor started with locating and purchasing the land.
"We spent several months looking for the right property," Sharon says. "When we drove up to this property it was unkept with scrub trees and overgrown brush along the road and I said, 'no way.' But as we walked deeper into the property, a beautiful meadow opened up and we knew it was the right place."
Sharon, who grew up on a small farm in the 'thumb' of Michigan, instantly fell in love with the property.
After finding the land, they reached out to several local banks for financing and soon realized it was not as seamless as they had hoped.
After connecting with Sandy Arnold from the GreenStone branch in Lapeer to purchase the land, the Gemellaros continued working with Sandy and GreenStone through the construction process and eventually to the mortgage and purchasing additional land.
"We have dealt with a number of banks over the years, both personally and with our business, and GreenStone by far has been the easiest to work with. We wish we could do all of our mortgages with GreenStone!"
The Gemellaros found the relationship-driven service and individual attention GreenStone has provided farmers for decades a refreshing change from the lending environment they typically experience.
"Our mortgage was a bit more complicated because we are business owners and have more documentation than a straight W-2, and that was not a problem. Sandy understood how being business owners affected our income," Marc says. "When we went to our first closing, GreenStone was prepared a couple days early, while others still were not ready at the time of closing."
Today, their home sits on the edge of the meadow, flanked by a woodlot of 100-year-old trees.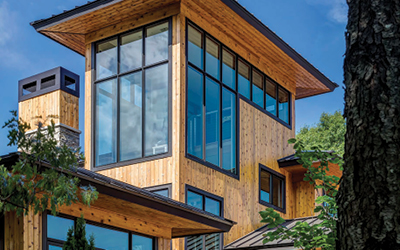 The Gemellaros designed their home to reflect the beauty around them while adding modern amenities to make their home a daily retreat.

The home features an open, airy interior with a large wall of windows facing out over an infinity pool and an expansive outdoor entertaining area, into a deep woodlot giving an "up north" feeling to the home.

Marc and Sharon both enjoy the spontaneity their new home provides – allowing them to hike, hunt or just enjoy nature whenever they choose.

"I can take a walk through the woods and sit and enjoy the beauty around me whenever I want," Sharon says.

Although Marc and Sharon hired builders and trade professionals, they were intricately involved in the building and decorating process, making daily visits during the 18-month construction phase. Since the original land purchase, they have acquired another parcel giving them over 170 acres of land to hunt on, manage and enjoy.

An avid hunter, Marc plants food plots on the property to attract wildlife. Over the past year, he has upgraded his equipment to be able to manage more of the field work on his own, including growing sweet corn this year.

Sharon, who is also a hunter, enjoys the time together working on the land and taking care of what they have.

"We feel a strong sense of responsibility to take care of this land," Marc says. "I look out and see trees that have been here for hundreds of years. We feel very fortunate to be taking care of this land."

Link to full article: here