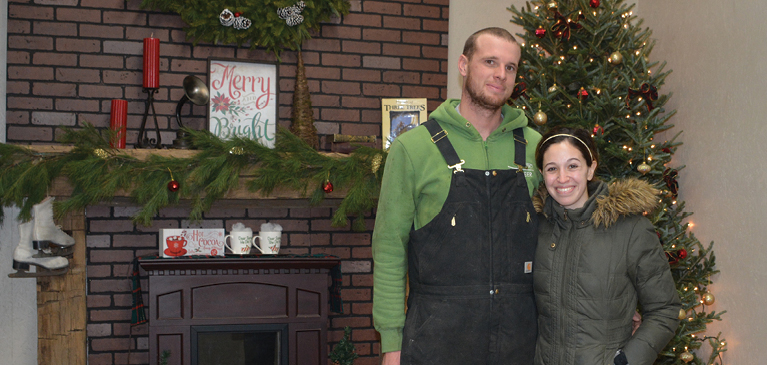 Many times when younger farmers assume the management of the family farm, they take on an extra layer of responsibility in ensuring family traditions and legacies are maintained. When Caleb and Kate Matthes took on the ownership of the Matthes Christmas tree farm (no relation), they became the gatekeeper of Christmas traditions and memories for hundreds of families.
"We know we are a part of so many family traditions, for many generations," Kate says. "It can put extra pressure on us to do it right. We have people who have been coming out here for 30 years as part of their family Christmas. It is a lot of pressure to provide a great experience for them and a lot of reward for us to see the families here."
Caleb and Kate purchased the tree farm from Wilbert Matthes in 2015. Wilbert and his late wife, Peg, started the farm with a few trees in 1953, and from there grew a successful Christmas tree farm in Monroe, Michigan.
When the younger Mattheses purchased the 100-acre farm, they acquired not only the trees and land, but the experiences that have built family memories for generations. The Christmas tree farm started when Wilbert delivered a few trees to co-workers in the early 1950s and is now a destination for families to select and cut their tree, visit with Santa and enjoy live music and refreshments. A retail area includes fresh wreathes, garland, and Christmas goods. A petting zoo and fire pits round out the experience.
From the end of November until shortly before Christmas, they will sell nearly 4,000 trees off their u-cut lot. On the weekends, hundreds of families will visit to enjoy the experience, some traveling over two hours from Michigan and Ohio to come to the farm.
In the past three years, Caleb and Kate have added their own touches to the farm, including the addition of an event area that can be rented for weddings, parties and other celebrations. They have also expanded the retail area to accommodate more selection of Christmas goods and allow more room for people to browse and visit Santa.
"The families aren't just getting a tree," Kate says. "They are making memories as a family, often times carrying on a long-time family tradition. We like to create a happy place for them, away from the craziness that surrounds so much of the Christmas season."
The intense activity through November and December, comes on the heels of harvest for Caleb who also farms nearly 2,000 acres of corn, soybeans and wheat with his father. His experience in farming gives him an understanding of the importance of soil sampling and crop protection, but other than the basics in crop management, he was not experienced in raising trees.
"We jumped in with both feet!" Caleb says. "We are learning from our mistakes, asking questions of others and figuring out ways to make trees grow. We like to talk with other growers and still seek advice from Wilbert, who still lives in the house on the farm."
Unlike the annual crops Caleb is accustomed to, Christmas trees can take 6 to 7 years to mature. Following the management practice of the previous owner, he attempts to clear and replant trees in blocks for easier management. New trees are planted at 12-16 inches tall in the spring or after Labor Day. Once the trees reach 3 to 4 feet, they are trimmed by hand each year to help shape the trees. The nature of the u-pick harvest can create challenges in managing the groves by blocks, but Caleb finds it easier than managing by individual trees.
Prior to the cutting season, Caleb will clear out trees with imperfections, using the boughs for wreaths and garland. This year he also cut the tops of the cull trees making small 2 to 3 foot trees they sold as small trees for kids or people in apartments.

"The little trees were a hit!" Caleb says. "The kids and other people who didn't want a full-size tree loved them."

To accommodate those wanting taller trees, Caleb brings trees in from the west side of the state that are closer to 10 feet tall.

One of the most beneficial aspects to come with the farm was a team of dedicated employees who have made the transition easier for Caleb and Kate. Throughout the year, they will have 4 or 5 employees working with the trees and on their other crop farm. But during the season, it takes 30 to 40 people to keep everything running. Each year many of the same people come back to take their spot on the farm, including Kenny the tractor driver for over 30 years.

"We never have trouble finding people to help," Kate says. "People like to be out here, to be part of the activity. Plus, it's only a few weekends out of the year so it's not a long- term commitment."

The Matthes were able to purchase the farm with help from GreenStone's young, beginning and small farmer program. Working with loan officers at the Monroe branch, the Matthes were able to secure the financing they needed.

"The Matthes are good people," says Rich Dubke, financial services officer. "They are young – only 27 years old, energetic and willing to put in the hard work to be successful."

Admittedly, the Matthes still have a lot to learn as they wrap up their third year of owning a Christmas tree farm, but their enthusiasm and curiosity have set them on a good course. From the creation of the event area and expanded retail to their desire to learn more about growing trees, they are laying a solid foundation for success.

Link to full article here: https://issuu.com/greenstonefcs/docs/partners_winter_19_final/6