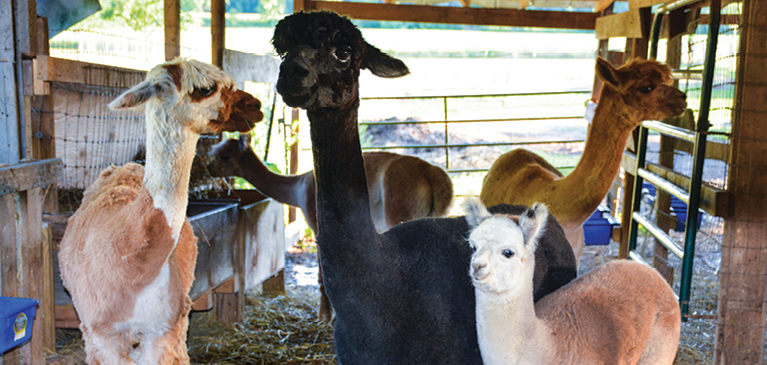 A Life-Changing Bond
Whether it is a beloved yellow lab, a prize-winning Jersey heifer, a floppy-ear rabbit or an alpaca – when humans connect with animals, a special bond is created. When that bond becomes an anchor in difficult times, it can be life changing. For Josie and Dennis Kruzicki, bringing alpacas into their life not only changed their lives, but the lives of many around them.
Dennis first encountered alpacas when driving home from a chemotherapy appointment, he stopped to watch a couple alpacas in a field – after spending a couple hours watching the alpacas, he was intrigued with the calming effect they had on him. He returned home determined to bring alpacas to their homestead in Bear Creek, Wisconsin.
Seeing Dennis' determination and passion to own alpacas, Josie joined with Dennis to find a couple alpacas to bring in as pets. Working with a neighbor, they found some alpacas needing to be rehomed, but the purchase price exceeded what they were prepared to spend. Dennis, who at the time was battling his second and third bout with cancer, was no longer able to work. While the Kruzickis believed the alpacas would be therapeutic for Dennis, they were worried about the costs involved.
That's when their "guardian angel" stepped in. When Dennis' sister heard the news of his desire for the alpacas, she contacted the neighbor to purchase not one, but all four alpacas along with two hybrid crosses for her brother. His sister had been tested for his bone marrow donor, however was not compatible, yet wanted to support her brother any way she could. Overwhelmed with gratitude, Dennis and Josie vowed to share the alpacas with others who may need some "animal love."
From the initial alpacas, the herd grew quickly by additional donations and their own breeding. Soon they opened "Kruzickis Kemo Kritters" and were hauling the animals to nursing homes and school functions allowing people to interact with the animals.
"For Dennis, caring for them and interacting with them added quality to his life at a time when many things were limiting him," Josie says. "Chemotherapy treats the physical part of cancer, but there isn't anything to help with the emotional side. The alpacas were that therapy for Dennis."

Alpacas, which are native to South America, created curiosity around the northeast Wisconsin area where the Kruzickis live, so they began opening up the farm to visitors and hosting a "shearing day" in the spring. The annual shearing day brings out hundreds of people to learn about the alpacas, watch the shearing and interact with the animals.

Josie also opened up the Kritter Kloset on the farm to sell products such as socks, hats and gloves made from alpaca fiber. Sales of the products along with donations help keep the farm running.
GreenStone financial services officer, Ann Klemp, has volunteered with Josie on the farm and during shearing day since the beginning. Ann also helped Josie and Dennis obtain the right financing for their home.

"We were trying to refinance our manufactured home along with 60 acres and were having trouble with other lenders," Josie says. "Ann …got us the type of loan we needed."
Sadly, Dennis lost his 20-plus year battle with five forms of cancer the fall of 2017, five years after bringing home his first alpacas. Josie continues the work she and Dennis started as a way to bring some happiness to others.

"These are our "babies." We know them all by name and by personality," Josie says. "Dennis told me he built all this so I would have something after he passed. The animals and the farm are my connection with Dennis."

Link to full article here: https://issuu.com/greenstonefcs/docs/partners_winter_19_final/28