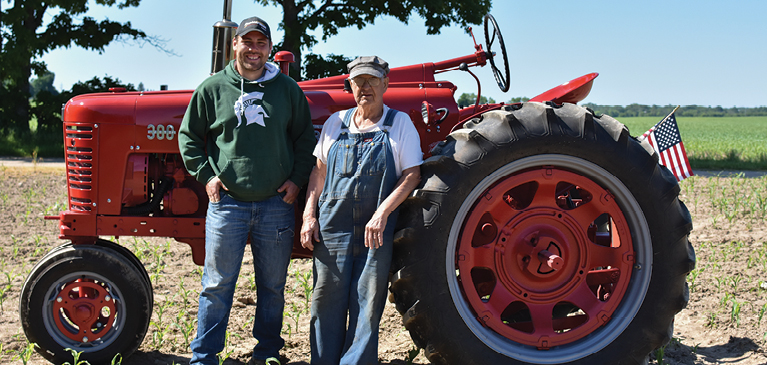 Tucker Mays is proud to be a fifth-generation farmer. He grew up across the field from his grandpa Sheathelm and spent a lot of time with him on his farm. Grandpa retired when Tucker was twelve, and one of his grandpa's cousins took over the operation. Tucker remembers asking the cousin if he could ride around with the workers in the field and hang out.
Cousin Duane, who obviously saw a future farmer in the kid standing in front of him, answered, "No, you can't hang around with us. But you can come and work for us!"
Tucker showed up the first morning and auditioned with a couple of rounds on the tractor. Duane pronounced him "good to go" and Tucker spent the next 10 years working with them on their family farm.
With his heart in farming, Tucker figured he'd had enough academics when he graduated from high school. Then he learned about the Institute of Agricultural Technology certificate program offered at Michigan State University (MSU), and despite not feeling that he was college material, took a chance on furthering his agriculture knowledge. Tucker quickly realized that MSU's program was absolutely the right direction for him, opening his eyes to how much he didn't know about farming and how valuable it was to have a network of professionals ready to help!
This network led Tucker into GreenStone's Farm Forward Mentorship program for young, beginning, and small (YBS) farmers.
"When I graduated from the ag tech program, I knew my grandpa's farm wouldn't be able to sustain another fulltime family member, so I started harvesting work for a company in Minnesota," says Tucker. "A group of us would head off to Texas to harvest wheat on a multitude of trucks, semis, pickups, campers, combines and tractors, and we would work our way up to western Montana.
"I still keep in touch with a lot of the harvesters, who are from all over the United States and from all sorts of different backgrounds and agricultural careers. It was an eye-opener for me to see how big agriculture is, and how growers across the nation all have the same goal but are working with different challenges."
After three seasons of work and travel, Tucker made the decision to settle down and start his own farm in Michigan. It was tough to find property, but GreenStone Farm Credit Services worked with Tucker every step of the way. His original financial services officer, Larry Sheridan (now retired) asked Tucker if he would be interested in a mentor-mentee program. From his education at MSU and through his shared experience with farmworkers across the USA, Tucker knew exactly how much value a network has and immediately agreed.
"I was paired with Ken Judkins, who owns a farm in Ann Arbor," Tucker comments. "Most everyone in agriculture is very helpful to beginning farmers, but the Farm Forward Mentorship program allows for in-depth discussion and idea sharing. It's like having a mentor-with-a-mission, someone who genuinely wants you to succeed and is willing to take the time to critique what you're doing on the farm and make recommendations.
"Ken and I talk often, and I realized pretty quickly that our mentorship will continue as a friendship well beyond the 18-month program. It seems like I've done everything the hard way, and to have someone willing and able to show me a better way will save me from stumbling in the future."
Currently, Tucker owns 60 acres and plants corn, wheat and soybeans. Like many YBS farmers, he also works fulltime for an agricultural technology company which gives him the flexibility to be out on his property when necessary and still work with clients. Tucker also spends most of his weekends helping his grandpa, admitting that his original 'mentor' has taught him more about farming than anyone else.
"My grandpa is the most knowledgeable human being that I know! He is exceptionally optimistic when I'm not...he's seen enough cycles to know that issues in farming usually resolve over the long haul."
Getting started in agriculture can be challenging, but Tucker advises there are a few things young, beginning or small farmers can do to showcase their agribusiness know-how when talking with a lender about financing farmland and equipment:
• Something small, like growing your own acre of sweet corn and selling it at a farm stand can have a huge impact on a beginning farmer getting loan approval. Proving you've had hands-on experience with your own enterprise really counts!
• Keep track of all of your data. If you're farming a couple of acres, maintain records, write down the planning details and explain how you managed your season. Showcase your skills, knowledge and abilities.
• Contact your local GreenStone branch and talk to a financial services officer about applying to be in the Farm Forward Mentorship program. Participating is a great way to prove your commitment to farming and an equally great way to develop a firsthand relationship with not only the mentor, but with a loan officer. My current GreenStone financial services officer, Stevan Stoutenburg, checks in with me regularly and keeps me informed of financial opportunities that could benefit my farm.
"I think the biggest success factor for young, beginning or small farmers is networking with existing farmers, and really being open to learn from them," Stevan advises. "It is also beneficial that Tucker and I communicate on a regular basis; it helps us both identify and fix potential problems, and to discover opportunities that can help Tucker succeed.
"It's refreshing to work with a young farmer that really knows the nuts and bolts of farming. Tucker stands out because he has done a lot of work educating himself about agriculture in order to run his own operation, and he's been successful with his approach."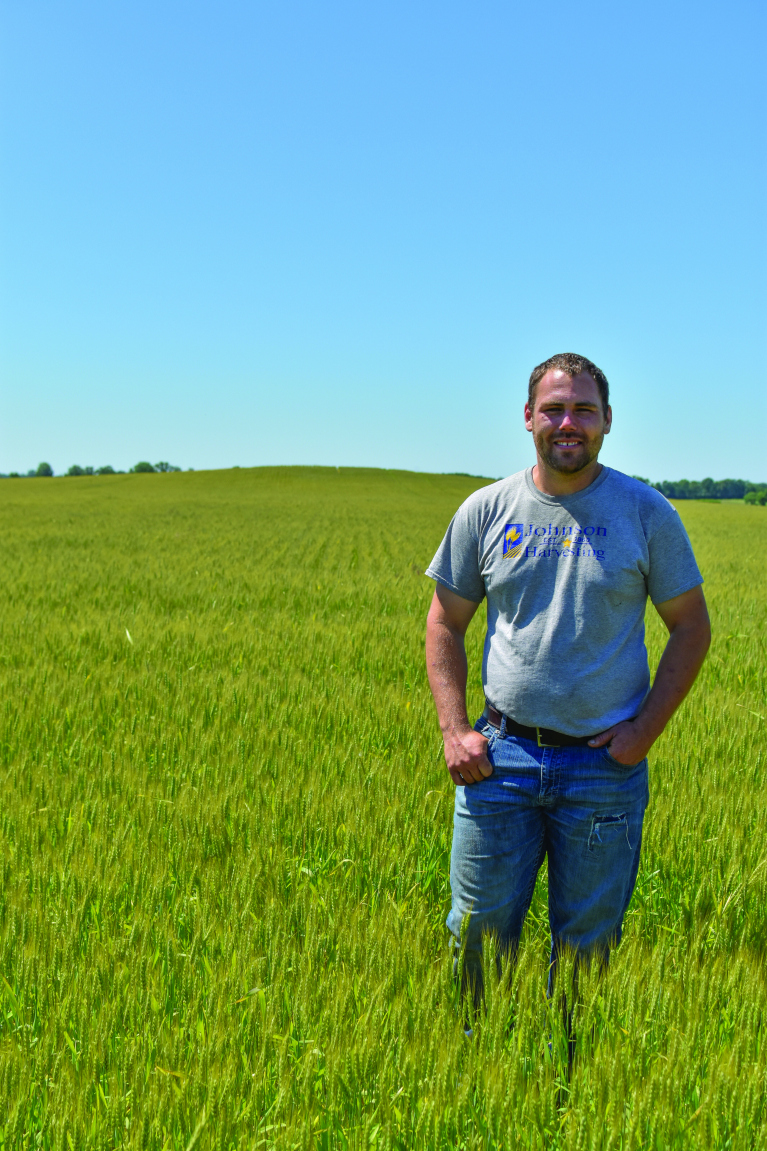 To view the article in the online 2020 Partners Magazine, click here.