Tom and Jack's grandpa started Black Locust Farm in 1923 and the original 80 acres were covered in its namesake woodland. Jack and his wife Kellie live in the cobblestone house that his grandparents purchased in 1909, continuing the third-generation family farm legacy along with Jack's brother and partner, Tom.
The brothers worked the farm with their dad after their grandpa died, eventually taking over the operation that now includes over 700 acres, with another 200 acres of rented fields. Black Locust Farm boasts 240 milk cows, and 40 dry cows and calves all the way through young stock. The farm grows corn, soybeans, alfalfa, and wheat, with all but the wheat going back into feed for the animals.
Much has changed since grandpa first cultivated their land, and Jack and Tom are working to ensure they are using current best practices in the field, in the barn and as part of their business to keep the farm moving forward.

It takes a team

In their scope of improvement, they organized monthly consultant meetings and invited their veterinarian, a feed expert, an agronomist, their equipment salesperson, and Mark Oberlin, their GreenStone financial services officer, to attend and participate.
Jack Jeppesen acknowledges the benefit of the experienced team effort: "We sit down and look over the records, identify where the holes are and where we're lagging, and what we can do to make our operation more efficient. The agronomist might talk to everyone around the table and see if we can cut some expense with our fertilizer or chemical program, or discuss when we need to harvest the alfalfa or the corn.
"We've had people who aren't really related to agriculture sit in on a consultant meeting, and they were just amazed. People don't understand that farmers aren't old sod savages anymore! We're actually business people; there's a lot of things that non-farmers don't understand we actually do – animal nutrition, property management, all the bookkeeping, and what every farmer is doing to pinch pennies to make a go of it right now."
Jack and Tom rely on GreenStone for tax and accounting expertise too, with services ranging from quarterly federal and state payroll taxes to periodic accounting reviews in their online accounting portal.
"The last six months have been very challenging for the dairy industry," says Jack. "But working with GreenStone has been phenomenal. For example, when the COVID-19 issue hit we were able to call Mark Oberlin, and our Tax and Accounting Manager Scott Martin, and they helped us round up all the forms we needed to apply for a loan under the SBA's Paycheck Protection Program (PPP) really quickly.
"They worked together to get the documents I needed for the loan, then sent it all to me to sign electronically. It was a very smooth process. It's been real good working with GreenStone the last couple of years. They know we're doing the best we can out here, and we know they're looking out for us."
Scott Martin admitted he was pleased that GreenStone has been able to adapt quickly during the coronavirus and provide the necessary electronic resources to remotely service the needs of our customers.
"Given that we help the Jeppesens with payroll throughout the year, and review the books at year-end, we were able to quickly and easily send all the documents Jack needed," says Scott. "The online accounting portal we set up for the farm last fall was also very helpful – I was able to quickly jump into their accounting system to print the reports that were required. I really enjoy working with Jack and Tom and I look forward to continuing this partnership in the future."

Joys outweigh the challenges
The biggest challenge for Black Locust Farm has been the weather over the last year and a half. In 2019, a prolonged wet season prevented planting; this year, corn and soybeans made it into the ground but required replanting after getting too much rain in May.
Still, Jack admits, the setbacks may be frustrating but when farming is in your blood, nothing stops your gratitude for an occupation you love.
"My wife and I like to go on rides every night, just around the neighborhood. We go by a cornfield every day, and I watch it to see when the corn is going to start spiking. Then, you see corn coming up out of the ground and you think ahead to harvest and wish city people could smell the fragrance of fresh cut corn silage or fresh mown hay," Jack explains. "And the older I get, the more I appreciate little things like that.
"I used to not bother to look at the sunrises, but you know, anymore in the mornings when I come out and milk, I always wait for the sunrise."
"It's just the best lifestyle, being out here in the country."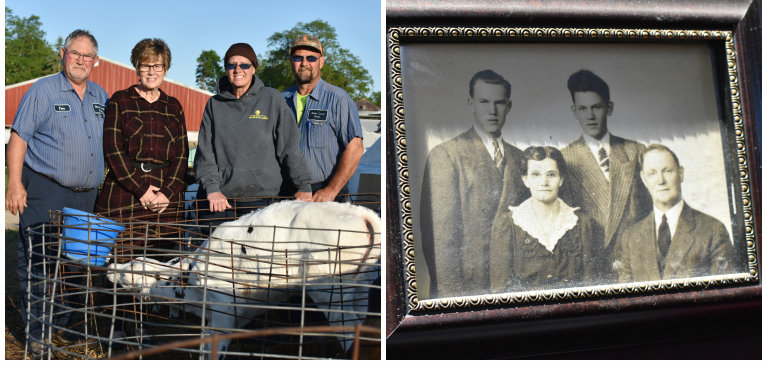 Left: Tom and Pam Jeppesen, along with Kellie and Jack Jeppesen, take pride in their dairy and cash crop operation.

Right: In the front row are Tom and Jack's grandparents, Nellie and Levi. In the back row on the left is Tom and Jack's dad, Gene, and their Uncle Levi Jr. is on the right.

To view the article in the online 2020 Summer Partners Magazine, click here.