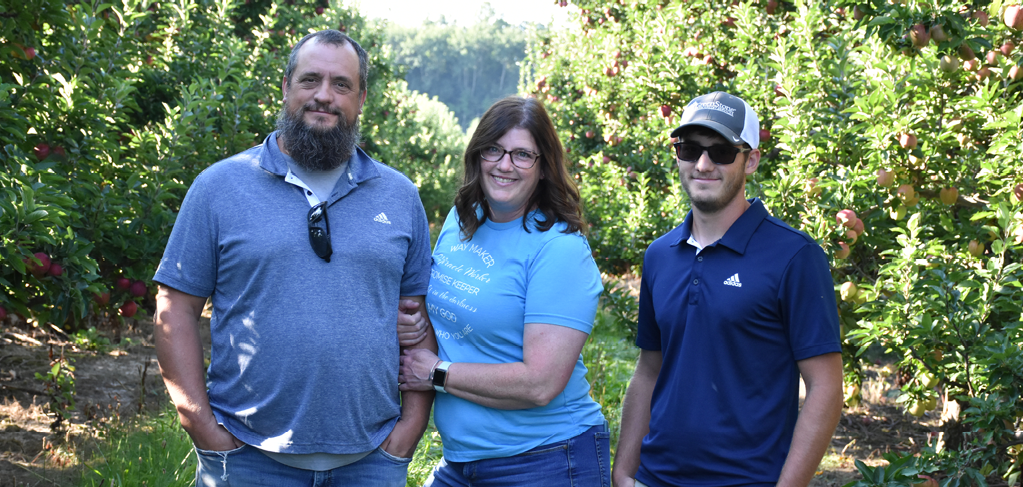 Aaron and Barb Roth got married under the terms they would not own a farm.

"I wasn't interested in being a dairy farmer's wife," she said. "Then about ten years ago, we thought – what if we took over my family's orchard? We didn't expect it to grow as fast as it did, and sometimes we wondered what we had done, but it's been really good.

Aaron grew up on a dairy farm, and he knew the daily work a farm requires. Instead of going into agriculture, he began working for Amway right after high school. He worked for them for 30 years in several roles, including in maintenance, plumbing, carpentry, electrical, and as a construction manager."

"All my experience at Amway I was able to bring to the farm," Aaron said. However, the farm began requiring more free time than he could provide.

"The farm has grown to the point that I can't be in two places at once, so my last day at Amway was September 3, 2021," he said.

Long history

Barb's great grandfather Christian Kropf started the orchard in the late 1800s when he immigrated from Switzerland. The farm is still in the same place where he planted his first acres of trees.

Barb and Aaron purchased the family's centennial home on the farm, and the proximity made it easy for her to help. Aaron, with his mechanical background, was a big help to her family in fixing equipment.

In 2014, the family decided to expand beyond the orchard and open a farm store, which they called the Red Barn Market. The Red Barn Market offers a variety of food, including produce, milk, eggs, bread, honey, jams, salsas, and ice cream.

With the market open seven days a week during the summer, and closed Sundays in the winter, they rely on a great team to make it all run.

"Our team is just fantastic," Barb said. "I've had great adults that have been here for years, and I have some teens that are probably the best crew I've ever had at one time. We are blessed to have our staff."

In 2017, Aaron and Barb decided to buy the farm from Barb's parents, Roger and Pat Kropf, and in 2019, they also purchased the Red Barn Market.

After these large purchases, an opportunity arose that they didn't anticipate.

"We'd expanded year after year, and then the Loughlin family came to us and asked if we wanted to buy their cidery," Aaron said. "We told them no three times, but the opportunity seemed so good. We went through the numbers, and we thought – this could be a huge, game-changing chance for us. We got excited about it and the potential, so we did it."

The Roths quickly found success in their cidery operation – Painted Turtle Hard Cider. The first cider they created, named Buzzing Blackberry Cider, won a bronze medal at the 2021 Great Lakes International Cider and Perry Competition.

"We are the complete farm to cup," Aaron said. "We grow the apples, we take the fruit to be pressed, we ferment it, we blend it, we keg it, and we sell it."

After the major expansions, the Roths were excited to ramp up their business, but then the shutdowns of Covid in 2020 occurred.

"We'd just opened the tasting room, and then we were forced to close it," he said. "We were supplying 40 locations with hard cider, and they were all shut down by the governor. We were really worried about what we were going to do, but then an amazing thing happened – our sales went up 200%."

To make this happen, the Roths transformed their Red Barn Market into a grocery store. People who didn't want to go to a large grocery store came to them. They sold toilet paper and sanitizer along with their food and hard cider, they needed three people to pack curbside groceries every day, and all of it increased their sales.

"We were exceptionally busy, and it was an incredible year for the whole situation. It was just unbelievable," he said. "We're up even more in 2021."




Family business

Barb and Aaron have four children, Rebecka (Aaron) 26, Noah (Zoe) 24, Diana 20, and Jonah 15. They also just welcomed their first grandchild.

Their son Noah works full time on the farm, and they are continuing their expansion plans. They just planted 6,000 trees in 20 different varieties for you-pick, which Noah grafted, and they planted 11,000 for commercial production.

"Part of what makes this great is that Noah didn't have a dad that did this, so he can do it differently than anyone else," Aaron said. "Some of my engineering background was pushing the envelope to see how we can do it cheaper or better than anyone else. Noah and I are learning that it's great to look at things a little differently."

Their latest endeavor is getting into the donut business, which they are making and selling out of the Red Barn Market.

Relationships

The Roths have been able to work with many mentors along the way. They were first paired with Kevin Winkle as part of GreenStone's Farm Forward Mentorship program – which is focused on supporting young, beginning and small farmers like the Roths through an experienced mentor like Kevin.

"We got so much out of that program, and I give it credit to where we are today," Aaron said. "Kevin spent a lot of time with me, teaching me what I needed to grow fruit. It is an incredible relationship. He'll spend time with me on the phone, he'll jump in his car and see me – our mentorship didn't end at the end of the program."

The Roths also take advantage of GreenStone's crop insurance, accounting, and financial services.

Phil Preston has been their crop insurance agent since 2018. He meets with them at least once a quarter to make certain they are as protected as possible from unforeseen events.

Phil has worked with the Roths on planning, programs, and risk management.

"Phil's a constant source of good information," Aaron said. "He lets me know about all the programs the USDA is offering. He helps us decide on frost and hail policies. He introduces us to people, plus he's a great guy and a great cheerleader."

Phil enjoys working with up and coming farmers, and he likes fostering long-term customer relationships.

"Aaron and Barb started from adversity, and they took every opportunity to work hard and make it," said Phil. "They went from survival to thriving, and we're happy we were able to help them through it."

Barb works closely with Scott Martin, tax and accounting manager, on the GreenStone accounting team. Scott oversees their payroll, quarterly and year end taxes, and helps answer their QuickBooks questions.

Aaron works mostly with Phil and their financial services officer, Matt Platte.

"Matt grew up on a dairy just like I did, and he'll just spend a day following me around the farm, learning about apples," Aaron said. "I showed him the past frost damage, I showed him what we're doing with bees, and all of this helps him help us make our best financial decisions."

The future

Through all their changes and expansions, there has been one constant.

"Not only has GreenStone been great, but the apple community has been fantastic, too," Aaron said. "They take the time to walk me through everything, explaining why this worked and what doesn't."

The Roths look forward to the donuts, cider, apples, and market adventures in the future.

"Even though I didn't want to be married to a farmer originally, it's just home for me," Barb said. "We live in the house I grew up in, and even when I stayed home to raise our kids, we were still connected to it. You're never far away from the farm – it's always home.".

To view the article in the online 2021 Fall Partners Magazine, click here.