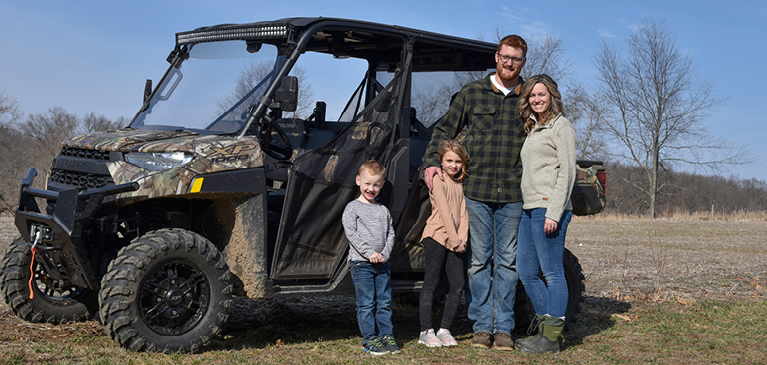 When Mac Ward's great grandfather Wayne Dack returned from World War II he bought a 100-acre farm in Parma, Michigan with a farmhouse and settled in. With his wife, Rosemary, they raised a son and a daughter there. Once the children moved out, the farmhouse was demolished and replaced with a smaller home for the two of them to live out the rest of their lives.
It's always been the family's desire to keep the farmstead in the family. It was passed onto Mac's grandparents and his grandpa's sister. For a time, Mac and his wife Ashley rented the small house built in the 1970s. However, they soon grew out of the 1,000-square-foot, two-bedroom, one bath home after starting a family.
Mac and Ashley moved out and into a home about seven miles away. The house sat vacant for a number of years until recent discussions started with his grandparents about buying the place and a portion of the acreage. But how could the Wards make it work for their now family of four that includes Addy, 7, and River, 4.
"I was there (the small house) a lot growing up and I really enjoyed spending my summers there and time with my grandparents," Mac recalls. "Ashley fell in love with it when we lived there. So, I have really always wanted to end up back there."
Financing
A plan was crafted to add onto the small house, a price was agreed upon and motion was underway... to some degree. Mac says they weren't really sure how to move the sale forward doing it on their own without a real estate agent.
"I called our mortgage company on the house we were in, as well as other mortgage companies," Mac says. "They understood what we wanted to do but didn't have a great avenue for us to do it. There was no roadmap for us to get from A to B, and they didn't want to offer a new construction mortgage with the existing house."
A couple of close friends of the Wards advised them to call GreenStone. "I called Stacy (Stinson) at GreenStone in Charlotte, because that's the town I work in, and started talking with her about our plan. She was like, this is what we need to do and here's step 1-2-3-4. She knew exactly what we wanted to do, was right on target and super helpful."
Stacy Stinson, a financial services officer with GreenStone, says the Wards were upfront on what they wanted, and and was a great fit with some of GreenStone's specialty construction loans.
"It's a remodel, but because so many changes were being made to the original home, it was viewed as a construction project,"she says. "We collected all the documents – such as sworn statements, building specs and blueprints – and then ordered an "as-will-be" appraisal, which allowed us to know how the final project would be valued."
Mac says they had the money to secure financing, it was a matter of finding a lender who recognized the value of the land, which was being rented to a farmer who will continue this coming season.
The Wards closed in August 2020 on 10 acres of the 100-acre farm with plans of buying the rest at a later date. The property includes the house and two barns – one was partially fallen and has since been demolished.
Construction underway
The Wards hired Ryan Seifert of Tines and Timber Construction as their contractor and broke ground in September. "A good contractor is worth his weight in gold, and Ryan did an amazing job," Mac says.
The small house was remodeled and the equivalent of another home added on. The house is now just shy of 2,000-square-feet. "The old house basically became our bedrooms and baths, and we added new living space and a kitchen," he explains.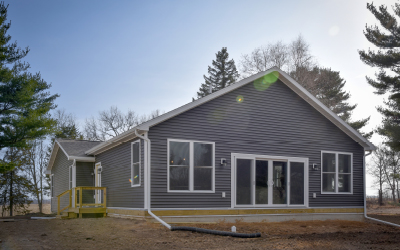 The Ward's newly renovated home.
"I hear horror stories about the stress of house building. We sold a house during COVID. We bought a house during COVID, and we built a house during COVID. But by working through GreenStone and having a great contractor, it was very easy – easier than buying our original house."
Mac says it was easy even though it required them to move into the small house for a short period of time before construction, then into a camper on the property and then to his par-ent's house during the winter before their Feb. 20 move-in date.
Strong ties
Not only did the property have family sentiment, the family also has strong ties with the Springport School District, which includes Parma. "The kids don't have to change districts and that's where I went, my parents and my grandparents," says Mac, who also notes their new home is about halfway between Jackson, where Ashley works, and Charlotte, where he works.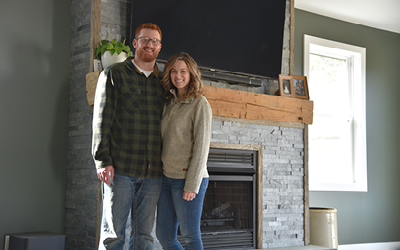 Mac and Ashley Ward by their new fireplace.

"This has been great because my grandparents were very concerned about making sure the land stayed in the family," he says. "I think we've provided a safe feeling for them. And, we designed and built the house to host family gatherings where many of us have lasting, special memories. One of the greatest parts of this house, which was built on a hill, is the view of the property – it's pretty awesome."

While it won't happen this spring, Mac says they have plans in the next couple of years to develop a Christmas tree farm and maybe have some animals.
Was it worth it? Mac gives a definitive yes. "We love it," he says. "We expected a lot, and it exceeded our expectations – tenfold."

To view the article in the online 2021 Spring Partners Magazine, click here.