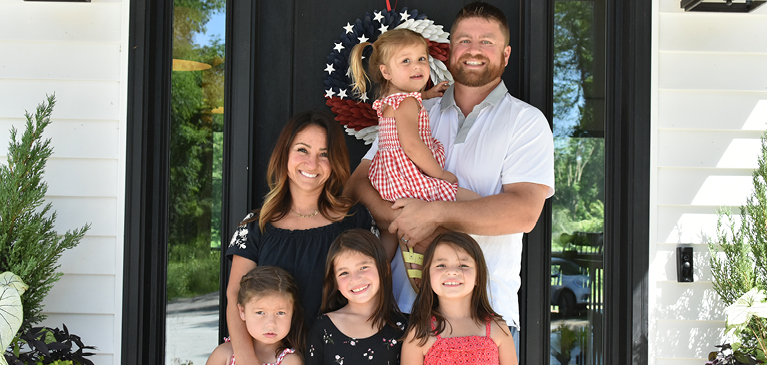 Ryan Hauser has experience as a do-it-yourself worker. As a side hobby, he flipped four houses to generate enough profit to buy vacant land in Monroe, Michigan.

"Once I had the land, I had aspirations of building the house myself," Ryan said. "It's not for everyone to be the general contractor of your own house. Some people think you're crazy. If you're dealing with legitimate contractors though, it'll go well."

Through GreenStone, Ryan and his wife Annie were able to easily make the transition from a homesite loan to a construction loan.

"Other places told me there was no way they would finance a loan where I was the general contractor on my own house," he said.

Loans through GreenStone

To make it all happen, the Hausers worked with Brian Young from GreenStone's Monroe branch.

"We have quite a few homesite loans that turn into construction loans," Brian confirmed. "However, Ryan knew from the beginning that he wanted to be the general contractor on his home. He also wanted to start the construction and then get financing when he was halfway done with his house. That doesn't usually happen."

Since GreenStone does appraisals up front, the lender can take into account what's already built.

"Part of what makes GreenStone different is that we're flexible, and we're willing to take on a loan on a building that's already in construction," Brian said. "Ryan and I set that up from the beginning. We got the plan together so we knew what he needed to make it a smooth process."

Ryan used a builder to set the foundation, do the framing, and install the windows. From there, he took over and contracted out the rest of the house. "GreenStone worked with us to do it all, and it was extremely beneficial," he said.

Homesite and Construction Loans

Homesite vacant land loans differ from construction loans, but both have a variety of options. Homesite loans have no acreage restrictions, typically require a 20 percent down payment, and customers can choose from a variety of rates and length of loan terms. Construction loans are available for do-it-yourself customers like Ryan or fully contracted construction. People can choose to pay interest only during construction, and there are flexible draw options. The Hausers worked together to make sure that the loan transition worked well.

"We continually talked through the process, ran the numbers, and Ryan kept me up to date as the project moved along. He knew what he needed, and together we worked it all out. He built a beautiful house," Brian said.

Hard work

Ryan has a history of working hard. He grew up in Monroe, in the same town as his parents' business Hauser Auto Glass. He played football at the University of Toledo, then lived in Nashville and Atlanta. However, family has a strong pull, and he moved back to be near them.

"My mom is one of eight kids, and my dad is one of seven kids. I have 52 first cousins," Ryan said. "We spend a lot of time hunting, and fishing, and watching our kids grow up together."

Ryan and his wife Annie have four daughters – twins Sylvia and Vera (8), Hazel (5), and Naomi (3). The house is designed especially to fit the family's tastes, including a wine room, a private nook, a playroom, and custom design touches.

"The wine room was a Mother's Day gift for my wife," Ryan said. "It has a few cabinets, a repurposed walnut accent wall we took out of another house, and we're able to display the wine on the wall."

Annie and an architect partnered together to design the house from scratch.

"The little nook she designed might seem like a closet in size to anyone else, but for us it's a perfect nook," Hauser said. "Elevated, cushion platform – it's great. "They're also working on a garden room and changing the girls' bedrooms as they get older.

Future

In Monroe, Ryan and his business partner now own a credit card processing company called Grand Mill Merchant Processing. "I've worked in the financial world, and this was a natural fit," Ryan said. "In my experience working at other banks, I think it's extremely unique that GreenStone is willing to work with us in this way. Letting me be the general contractor on my own build, start financing in the middle of the build – it's unconventional in the industry. With all the rules and restrictions, it's nice to have someone allow you to do your own thing."


With the tight margins on house flipping, the Hausers are not planning on buying another home soon.

"As the market changes, we'll reevaluate. Right now we're just enjoying our own house," he said.

To view the article in the online 2021 Summer Partners Magazine, click here.