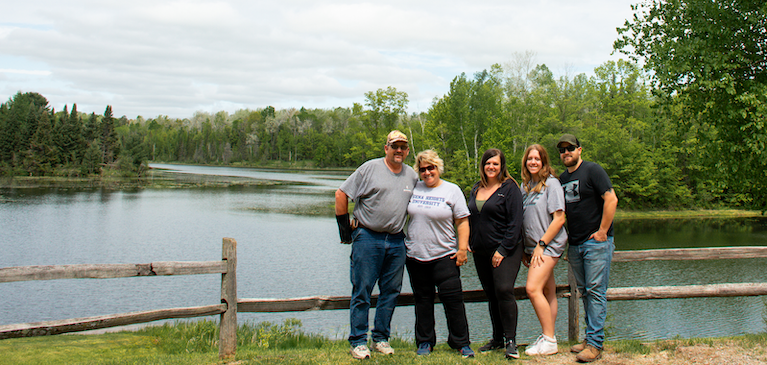 Cherie and John Shields and their sons had been leasing hunting land for years, but the owners sold it. Heartbroken, they started their search for the perfect recreational property.

"I was online constantly looking, but it was John that found it," Cherie said. "We figured it was already gone, we thought maybe 30 acres was too much, but then we decided to drive there with the selling agent and check it out."

They took their son Andy with them to evaluate the property and see if it met their needs.

"Andy is picky, picky," Cherie said. "But before we even got out of the car, he said – We have to have it. We felt the same. We all fell in love right away."

As the agent showed them around the property, Cherie sat on the porch and wrote up the offer.

The 30 acres, located in Barton City, also came with a furnished mobile home and a travel trailer.

"It was just the serenity," Cherie said about the initial attraction. "It was so quiet, and it was early fall, and the leaves were just beautiful. It was just everything we wanted. I felt really lucky and like somebody was looking out for us."

Her older son, Christopher, took his brother's word for it being great, and the Shields closed on the property in October 2019.

"We have six dogs between our families, and the first thing we did is put up a fence so we could put the dogs outside behind our home," Cherie said, thinking of her own German Shepherd. "It took us until after dark, so we were using headlamps. But we got it done and were ready for the first night we spent there."

The very next day, Christopher bow hunted and got a deer. The timing was perfect.

"It just feels like it was meant to be," Cherie said.

"That's all I can say."

Working with GreenStone

Cherie does diagnostic testing on children, age 0-3, for the Monroe County Intermediate School district, and she is a real estate agent with Gerweck Real Estate.

"This was my first time working with Brian Young from GreenStone," she said. "I previously had a client that wanted to use him, and when we found the land we wanted to finance, I knew right away to use GreenStone."

Brian has been a GreenStone financial services officer for several years and already knew of Cherie because of her work as a realtor. He was happy to help her family finance a unique piece of ground.

"Not every lender could work with multiple parcels with a trailer and a mobile home on it, because that complicated things a little, but we were able to finance it," Brian said. "It was nice to be able to help Cherie obtain a piece of property where the goal is a family who wants to spend time together."

Overall, the entire process went smoothly.

"I'd heard so many good things from people, and Brian and Marlene Langerman [customer service representative in GreenStone's Monroe branch] have been nothing but wonderful," Cherie said. "When I call, they know the answer right away – I don't have to wait."

Recreation

Aside from hunting, they also use the land for additional recreational purposes. They enjoy spending time with the deer, turkey, and bears that visit the property.

"We have a bay window, and we'll be playing cards, and we can see the bear walk right up to the house," she said. "They're pretty to watch from the inside, but I don't want to be out at a bonfire when it's walking through our yard."

They have nearby lakes, where they like to kayak. They fish, go for walks, and ride around the property in their side by side and golf cart.

"It's just beautiful country," Cherie said. "We just love spending time here."

Their son Christopher and his wife Deanna have two dogs, Molly and Allice, and a daughter named Alina who also loves to bring her friends up to kayak, canoe, and fish. Their son Andy and his wife Kirstie, who also spend time with them, are expecting a baby they plan on introducing to the property.

At home in Lasalle, Cherie and John take care of their 11-acre farm, which includes five horses and three basset hounds. John recently retired from a 33-year career at Ford, and now works for a farmer helping to harvest hay.

"In the future, we're just looking forward to keeping everyone happy and healthy – and that goes for our animals and our kids," Cherie said.

To view the article in the online 2022 Summer Partners Magazine, click here.