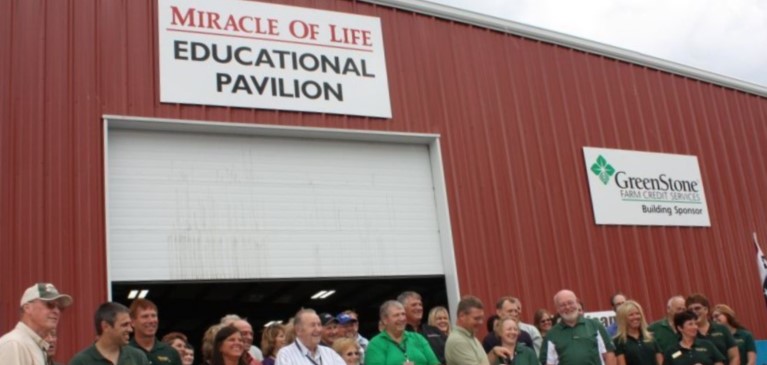 Engaging in local activities is one way GreenStone gives back to places where we work and live. Our employees carry out our passion for community engagement through a variety of activities both as GreenStone representatives and as volunteers – we are pleased to tell their stories here. Watch for upcoming stories of how our employees give back in our Open Fields blog!

When State funding for both the Lower Peninsula and Upper Peninsula's State Fair dried up, folks in the Upper Peninsula banded together to take matters into their own hands. The U.P. State Fair Authority took over fair operations in 2009, with representatives from each of the Upper Peninsula's 15 counties and Hannahville Indian Community members participating, and the first locally owned U.P. State Fair took place in 2010. The U.P. State Fair continues to attract guests year after year, with fun attractions, great fair food and livestock exhibits from throughout the region and beyond.

The fair takes place each year in beautiful Escanaba, an Upper Peninsula port city nestled on Little Bay de Noc and only a short drive away from Hiawatha National Forest. From the Pictured Rocks National Lakeshore in Munising, to St. Ignace, to Sault Ste. Marie and back again, there are so many wonders tucked in Michigan's northernmost peninsula. The fair allows guests from all over the country to experience the unique culture Michigan's Upper Peninsula provides.

Since the U.P. State Fair Authority took control of the Fair, financial services officer in GreenStone's Escanaba branch, Ann Harrington, has served on the Fair Authority representing Schoolcraft County. Ann initially got involved in the fair when her family started exhibiting cattle and horses 15 years ago. She is now a major contributor to the inner workings and planning of the fair.

"I currently serve as treasurer and I am on the executive committee as well," Ann shared. "In the beef barn, I do the paperwork for the junior market and breeding shows, as well as the open breeding show."

Along with livestock barns and other animal exhibits, there are many activities, shows and displays for any interest or desire. Fishing and shooting ranges are offered by the DNR, a butterfly encounter exhibit, a life-sized cheese sculpture by a skilled cheese carver and much, much more.

Outside of Ann's personal involvement with the fair, she shared some of the different projects GreenStone has been part of over the years.

In 2012, GreenStone was a major sponsor of the new Miracle of Life building. Before the building, the Miracle of Life display was under a tent. Each year, GreenStone operates a booth inside the Miracle of Life building and continues to support the fair financially through sponsorships. GreenStone also sponsors a family dining tent near the livestock barns where families can sit, relax and enjoy some good fair food, as well as Jilberts Dairy ice cream.

Ann shared, "The Escanaba branch's coverage area is the entire Upper Peninsula. Since the U.P. State Fair draws agricultural exhibits from many counties in the Upper Peninsula, I am able to visit with many of my customers during fair week? and stay up to date with their operations."

The 2018 U.P. State Fair will be held August 13 – 19 at the U.P. State Fairgrounds in Escanaba. For more information on vendors, entertainment and more, visit www.upstatefair.net.