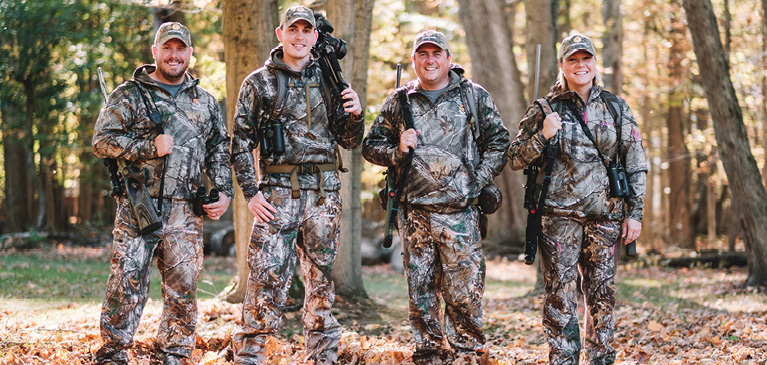 Camouflage is a regular part of the outdoor landscape here in Michigan and Wisconsin, and in much of the Midwest. Not only do people wear it while hunting or fishing, it is frequented in recreational wear as well. I might even say it has become a staple in the wardrobe, especially for those who spend time in the outdoors.
Over the years, camo has come a long way. When I first started deer hunting there were only a couple of camo patterns available. Fast forward to today, and you'll find hundreds of different options available for just about every scenario you could think of.
There's different camo for deer hunting, waterfowl hunting, predator hunting, turkey hunting, big game hunting, and even camo for fishing! Then, multiply those by the different variations of snow camo for each activity as well.
Over the last decade, the digital camo availability has also grown in popularity, much of which is similar to military camo patterns. These patterns are most prominent in the western part of the U.S. and have been gaining popularity in the Midwest.
It's funny to think that not long ago many deer hunters simply wore red and black plaid while hunting. I wonder what those hunters would think if they could see what people are wearing into the woods nowadays!
Although it's most common to think of clothing when you hear the word "camo," the use stretches far beyond coats and pants. Similar to concealing the hunter, is the need to conceal the hunting structure - boats, kayaks, deer blinds, etc. On a recent trip to the east side of Michigan, I passed more than a dozen waterfowl hunters on their way to the marsh. Each was pulling a boat of some sort, all of which were painted with a one-of-a-kind homemade camo pattern. In most cases, those hunters hunt directly from the boat and can use all the help they can get to hide from waterfowl flying above them. Deer hunters also use this tactic when hunting from blinds, either buying blinds that already have a camo pattern on them or using a few cans of spray paint to create their own.
Camouflage is everywhere – in both the outdoor industry and in common life. Finding the variation and application that best fits your need is what it's all about, and why we're co-hosting the Country Camo Photo Contest. Why not share how you're using camo in your lives. Whether in the field, on the water, or in your home, I'm sure you have some interesting photos we can't wait to check out!
To enter GreenStone's Country Camo Photo Contest for a chance to win Huntworth apparel, an infrared camera or a $100 gift card, or to view current entries, click here.