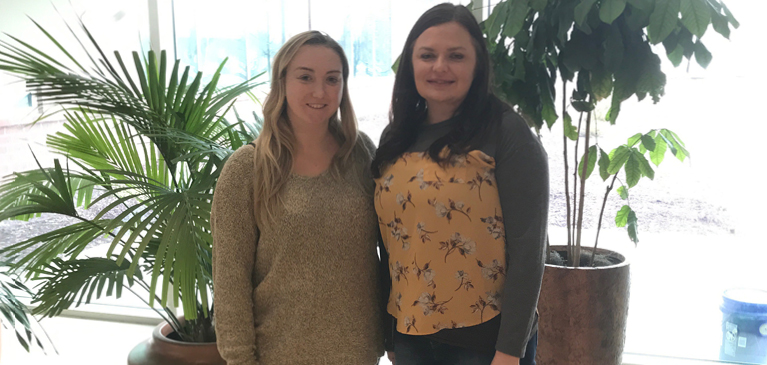 GreenStone welcomes Jennifer Pawlowski and Haley Holtz to the Tax and Accounting Department located in the East Lansing office. They will continue working with GreenStone until the end of the school year.Through this internship, they will experience the agriculture industry, life on the farm through farm visits and other activities.

Jennifer and Haley will learn the basics of accounting and tax law specific to the agricultural industry in order to prepare both simple and complex farm tax returns, says their supervisor Scott Martin. "They will gain a general understanding of various types of farming operations as well as other types of businesses outside of agriculture. They will also get a glimpse of the stress and pressure of going through a tax season and the workload associated with it. It is our hope they will be able to utilize these skills and experiences to help determine the right career path for them."

Jennifer Pawlowski

Internship Title: Tax & Accounting Intern
Home town: Mason, Mich.
College: Baker College
Major: Accounting
Expected graduation date: December 2019

Background: I grew up in the Lansing area and graduated from Holt High School. Even though I have past experience with accounting and bookkeeping, this is my first internship. Before I met my husband, I didn't have any agriculture experience but I have gained experience by occasionally helping on his family's farm.

Hobbies and interests: I enjoy mountain biking and spending time outdoors, I hope to have more time for these things after graduation!


Why GreenStone? I have a lot of interest in and respect for agriculture and all of the processes involved in the industry. GreenStone was the right choice for me because it combines my interests with my educational focus.


Haley Holtz
Internship Title: Tax & Accounting Intern
Home town: Wayland, Mich.
College: Michigan State University (MSU)
Major: Accounting
Expected graduation date: May 2019

Background: I attended Wayland Union High School. In the past, I worked as a strategic support associate for Jackson National Life Insurance Company in the Broker Management Department. This is my first tax and accounting internship as I work toward a career in accounting.

Hobbies and interests: I am very involved in the Greek life at MSU. I was vice president of my chapter, as well as vice president of Leadership Development on the Panhellenic Council.

Why GreenStone? I like that Greenstone is a large company with many branches and serves a large area, but it's not so big that I feel lost. I know I will leave this internship with knowledge and exposure to the accounting field.

Be on the lookout for winter intern segments next Wednesday!

Are you or someone you know looking for an internship? Find out more about the GreenStone internships and careers here.