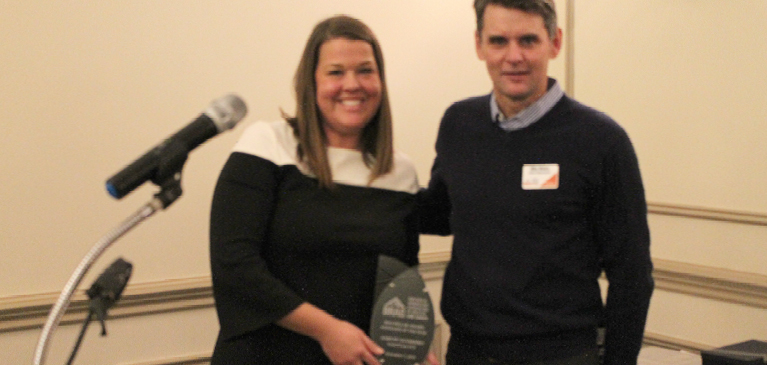 Congratulations to Ashlee Guerrero of Greenstone's Ann Arbor Branch for being named Affiliate of the Year by the Builders and Remodelers Association of Greater Ann Arbor Foundation (BRAG)! Ashlee has served as a BRAG Committee Member since 2014 and on the Foundation Board of Directors since 2017. She has dedicated countless hours of planning and support to the foundation. BRAG supports students going into the building industry with scholarships and grants. Scholarships support student's secondary education and the grants help provide assistance to students who are going into the workforce for items like boots, tools and equipment.

"The scholarship amounts are dependent on how much money we raise the previous year. Students who apply are interviewed and a committee determines which students are awarded the grants or scholarships," Ashlee says.

BRAG also helps provide funding for the Ann Arbor Student Building Industry Program (SBIP). The SBIP provides a one-of-a-kind learning experience for students. Ashlee's contributing to the success of SBIP by supporting and engaging in BRAG. Ashlee and Sam Schafer, also an employee at the Greenstone branch in Ann Arbor, attend fundraising activities sponsored by BRAG such as golf outings, silent auctions and dinners to support the program. For more than 50 years, the SBIP has been enriching student's minds through a hands-on, home building experience. The SBIP is a nine-month program giving students the opportunity to meet at a construction site every day during school helping build a house from the ground up.

"I truly believe in the SBIP and the impact it has on the students," Ashlee says.

The student program consists of approximately 30 students, ranging from high school freshman to seniors. Experienced coaches are working with the students in every aspect of the building process, from pouring foundation to hanging drywall to selling the home. High school students participating in the program are equipped with a hands-on building experience setting them above their peers.

"The students who continue on to secondary education in construction have an edge on students just entering the industry," says Pete Nowakowski, BRAG's marketing and communications director. "The SBIP is made possible by donations and partnerships with organizations."

The contribution of the BRAG of Ann Arbor Foundation and its members are essential to the continued success of the Ann Arbor Student Building Industry Program and the impact on the future careers of the students. Click here to see the 2018 finished home built by students in the program.