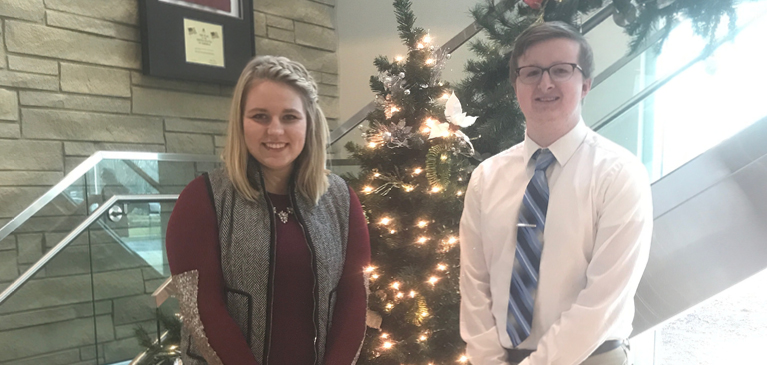 GreenStone welcomes Jeffrey MacCowan and Amber Echlin to the Marketing Department. Through this internship they will experience the agriculture industry, life on the farm through farm visits and other internship activities. Check back for more on our interns over the next few weeks.

GreenStone's marketing internships open the door to experience an "in house agency" culture. Melissa Rogers, vice president of marketing and public relations says, "Our team partners to provide innovative solutions to connect with our members and broaden the reach of the GreenStone brand. Jeffrey and Amber will be engaged in each aspect of the journey and lead various projects designed to provide them real-world experience and development."

Jeffrey MacCowan

Internship Title: Marketing Intern
Home town: DeWitt, Mich.
College: Northwood University and Lansing Community College (LCC)
Major: Marketing
Expected graduation date: May 2020


Background: I graduated from DeWitt High School and I have lived in the Lansing area my entire life. Previously, I worked at a small business media company for over two years in marketing, communications and event planning. At LCC, I was active in the American Marketing Association for two school years. This is my second internship in the marketing field.


Hobbies and interests: I enjoy watching sports, coaching basketball, weight lifting, watching movies and listening to music.


Why GreenStone? I come from a small business background not related to agriculture. Working at GreenStone will provide me with hands-on experience with a different perspective in a different industry.

Amber Echlin

Internship Title: Marketing Intern
Home town: Mount Morris, Mich.
College: Northwood University and Mott Community College
Major: Marketing
Expected graduation date: May 2019


Background: I graduated from E.A. Johnson Memorial High School and although I have experience in marketing, this is my first internship. Until my junior year of college, I was studying biochemistry and realized after working as an online sales representative for two years promoting content on social media, marketing was the better career choice for me. As for my agricultural background, I grew up on 60 acres in the country, about 55 of those acres are dedicated for farming. Although our family once farmed the land, we now rent to local farmers.

Hobbies and interests: I love being outside, especially in the summer. You can usually find me being active from roller skating, riding bikes or just going on walks. I also enjoy interior design and will be spending my free time this winter pretending to be Joanna Gaines, decorating my new house.


Why GreenStone? An internship at Greenstone sparked my interest because I know first-hand how hard farmers work and I wanted the opportunity to work with a company that valued their hard work and dedication.

Be on the lookout for more winter intern segments next Wednesday!

Are you or someone you know looking for an internship? Find out more about the GreenStone internships and careers here.