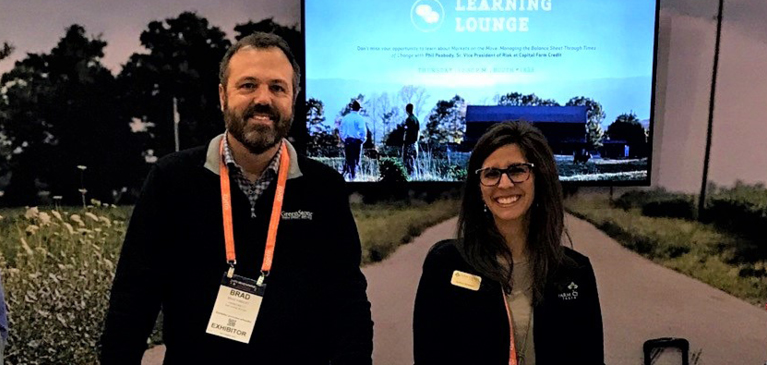 Looking for the "Super Bowl" event of the cattle industry, the one-stop shop for any cattleman or woman? The 2019 Cattle Industry Convention & National Cattlemen's Beef Association Trade Show (CattleCon) was that event for anyone in the cattle industry. The CattleCon is the largest cattle industry event in the country, with over 10,000 registered attendees this year.

The CattleCon kicked off on Monday, January 28, with a meeting of the American National CattleWomen, followed on Tuesday by Cattlemen's College demo sessions and receptions. The one-of-a-kind trade show features almost 400 exhibitors and stretches over 7.5 acres. From Wednesday, January 30 through Friday, February 1, cattle farmers had the chance to speak with feed and veterinarian suppliers, check out the latest farming equipment, chat with Farm Credit employees and so much more. There was endless entertainment throughout the week including a Mardi Gras Masquerade, Cowboy Concert Series and several receptions.

Farm Credit is a proud sponsor and participant of the CattleCon each year. This year GreenStone employees, Jeff Sommerfield and Brad Hibbert, had the opportunity to represent Farm Credit and connect with farmers at the conference in New Orleans. Jeff understands the importance of GreenStone being active in events like this and being well-informed of rising topics in the industries we serve.

"I learned additional knowledge around meat substitutes and know that educating consumers will be key as alternate products continue being developed," Jeff says. "This protein sector is just one of many commodity segments we serve and finance. Being present allows staff to gain insight on the industry while networking with customers and industry leaders as we tell our story of the Farm Credit System."

In addition to educating farmers of news in the beef industry, the conference is an outlet for cattle farmers to connect and learn from each other. This year was Brad's second time attending CattleCon and he enjoys the diversity and networking opportunities the conference provides for cattle farmers everywhere.

"After talking with cattle farmers from other parts of the country, you realize how diverse it is. One rancher I spoke with mentioned they run cattle on sections of land, because the farms are so enormous," Brad says. "There are many opportunities to learn from experts in the field at the conference like listening to presenters, the Cattlemen's College or intermingling with cattlemen from around the country."

If you are interested in learning more about the CattleCon or attending the event next year, click here.