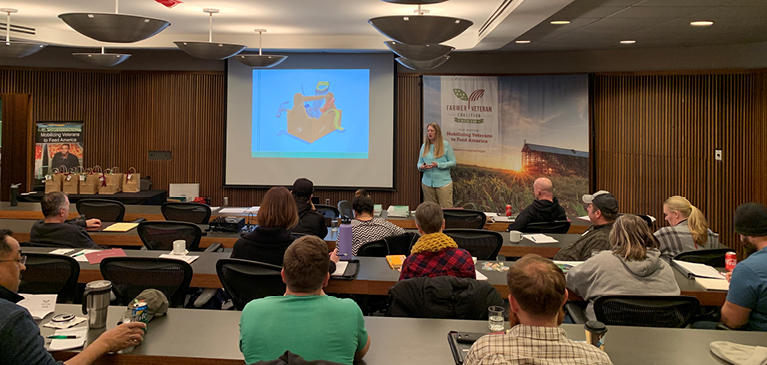 From the Battle Fields to the Farm Fields

Because farmers and military men and women both enjoy the outdoors, have strong work ethics and a drive to serve the community - it's clear why some returning veterans feel at ease in the farming community. With more than 40 percent of military recruits coming from rural areas, there is a strong need for support of military veterans transitioning to the agriculture industry. The Farmer Veteran Coalition (FVC) was created in 2009 with that mission in mind.

The FVC proudly supports returning or beginning farmers that served our country. It is free for a retired or active military person to become a member and take advantage of the farm business tools provided. The FVC offers fellowship grants, farming resources and a distinguished Homegrown by Heroes label to help veterans' products stand above the competition. With the help of sponsors like GreenStone, FVC offers educational events providing veterans advice on farm management.

On January 19, the FVC of Michigan equipped dozens of veterans with information on lending options, mental health awareness and farm taxes and bookkeeping at the 2019 Business Workshop. GreenStone employee, Lindsey Bliss, FVC of MI board member since 2017, helped organize the workshop and GreenStone provided funding to offset the cost of the workshop. Six professionals, including GreenStone employees, Jennifer Whitford and Chad Zagar, presented at the workshop.

"Most of the participants in the workshop are beginning farmers and my goal of the presentation was to educate them on things lenders are looking for if they want a first time farm loan," GreenStone's vice president of lending, Jennifer says. "I also spent time after the event looking over some of their business plans and talking with them about what they should include or change in their plans."

Chad, GreenStone's vice president and managing director of tax and accounting, spoke to the veterans about maintaining basic accounting for their farm. "My presentation focused on the importance of record keeping and keeping good enough financial records that you are able to make sound business decisions," Chad says. "I talked about not getting overwhelmed and thinking that you need to have perfect records right away. It's best to be consistent and then make corrections as you go if you see something you want to report differently."

GreenStone is honored to support FVC's mission of providing military men and women the education, networking and business tools they need to transition from the military to the agriculture industry.

If you would like to learn more about Farmer Veteran Coalition and the fellowship fund they offer, click here.