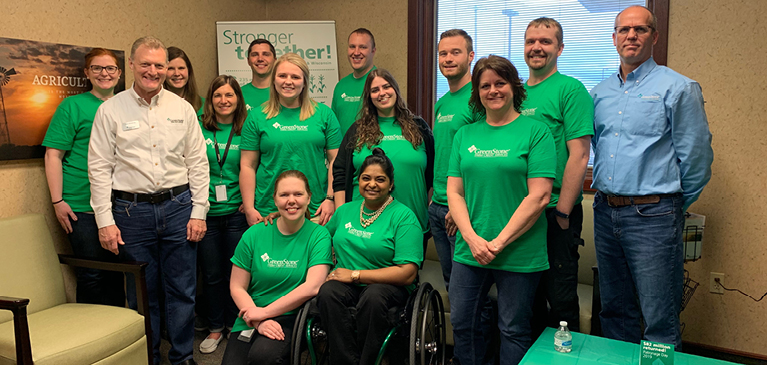 Working as GreenStone's marketing intern provides me with ample opportunities and the internship program encourages students to job shadow at least three employees whose careers they want to learn more about. Visiting farm operations, petting cows and sitting in a Mennonite family's kitchen isn't a typical job description by any means, but luckily for me, that's exactly what I experienced at my recent job shadow.

Since I began at GreenStone, I've been intrigued by the responsibilities of financial service officers, their strong relationships with our members and what their typical work day consist of, so I jumped at the chance to job shadow the VP of Lending, Mike Kennedy, and experience first-hand the crucial role he plays at GreenStone.

My day of job shadowing began with a tour of the GreenStone Ionia branch and an in-branch meeting with a long-time customer. The customer stopped by to speak with Mike about farm land he was interested in and get advice on financing options. I was really impressed that the gentleman stopped by to get feedback from Mike before ever seeing a purchase agreement. GreenStone was his first choice and Mike was there for him when he needed him.

After the meeting, Mike and I made a 'farm call' for a Mennonite family. While I sat in the kitchen of the family's home listening to Mike and the customer chat, I quickly realized their relationship was built on more than a loan agreement, but on years of trust. Mike knew the ages of the family's children, where they moved from and remembered things about the family that showed me just how passionate Mike is about his customers and their success.

As we drove through the Mennonite community, Mike pointed out the many farmers he knew. I was astonished by how well he knew the community and the individual farming families. After spending just one day with him, I could tell Mike was a well-known figure in the community and plays an important role in dozens of family farm businesses. We made one last stop before heading back to the branch at a dairy farm where Mike explained the layout of the barn, how the design keeps cows cool in the summer and efficiently milks them. I was taken back by the size of the cows and how simple, yet effective the configuration of the barn was.

Once at the branch, Mike explained steps in the loan process, the responsibility of customer service representatives (CSR) and the checks and balances each loan undergoes. He showed me the process for completing a loan, how it's thoroughly checked for accuracy and the role different teammates play in the process. I met Rebecca Bailey, a CSR who handles Mike's long-term loan applications. Prior to my job shadow, I honestly thought CSRs primarily handled administrative tasks, but after speaking with Rebecca, I have a much better understanding and appreciation of their roles.

After completing my job shadow at the Ionia branch and speaking with Mike and Rebecca about their roles, I understand GreenStone and the loan process so much better. Working for a company that values the dedication of farmers and helps make it possible for them to do what they love is amazing; but seeing it first hand during my job shadow was an incredible, one-of-a-kind experience I am extremely grateful for.