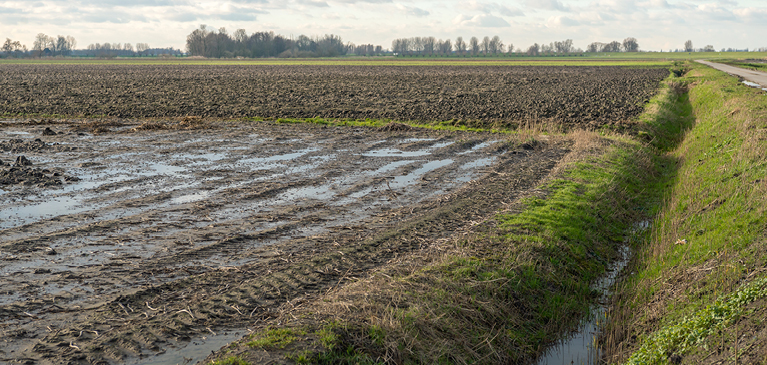 To date, the 2019 planting season is best described as cold and soggy for Michigan and northeast Wisconsin – and for much of the country. However, the key words are "to date."

As anxious as farmers are to get into the fields, they are patiently waiting for soil conditions to improve. And, given last year's wet and long harvest that resulted in ruts and compaction, the urgency to start fieldwork is even more heightened.

Nationally, corn planting remains sluggish with just 23% completed, according to the USDA May 6 Crop Progress Report.

Michigan has just 3 percent planted (16 percent average), while Wisconsin has 7 percent (24 percent average). Other major corn producing states were as bad or worse. Indiana has just 3 percent planted (35 percent average), Minnesota 6 percent planted (42 percent average), North Dakota 3 percent planted (23 percent average), Ohio 2 percent planted (27 percent average) and South Dakota is reporting no corn in the ground (29 percent average).

There may be a marginal shift back to corn, but it is weather dependent, according to Jim Zook, executive director of the Corn Marketing Program of Michigan.

"Michigan corn acres do not vary much over 4 to 5 % from one year to the next," Zook explains. "The acreage shift is usually played out in the market and growers can wait to the last minute to change their minds."

Typically, he adds, the later the corn is planted, the less weed pressure issues there are throughout the growing season, provided herbicide applications go on timely.

Prevailing cooler soil temperatures have also slowed emergence and growth of alfalfa, oats, and sugarbeets.

The Upper Peninsula received up to eight inches of snowfall during the first week of May.

The Michigan Agri-Business Association says a review of 20 years of corn planting in Michigan shows that progress over the last 10 years is becoming more variable and slower compared to the previous 10 years. Over the last 10 years, corn planting by end of the year's 18th week averaged 23 percent, compared to 40 percent for 2008-1999.

Wheat outlook

Winter wheat has been slow to break dormancy; growers expressed concern of nitrogen shortage and disease in some wheat fields that are unable to be treated due to wet field conditions.

Michigan State University Extension Wheat Specialist Dennis Pennington says it's about time for growers to assess their wheat stands and winter damage, saying a high-yield potential will need upwards of 24 heads per foot of row.

Much of the wheat crop in Michigan was planted late last fall due to frequent rainfall delaying dry bean and soybean harvest. Late planted wheat is behind normal in terms of growth stage, Pennington says.

"Many farmers have fields that they are evaluating whether to keep in wheat or tear them up and plant another crop," he explains. "In the Thumb area, I expect as much as 20% of the crop may be destroyed and replanted to another crop. Elsewhere in the state, there is less damage and crop condition ranges from poor to very good. "

Overall, in Michigan, he expects to see 5-10 percent of the 590,000 wheat acres planted get replanted to another crop due to poor stands and poor yield potential.

Weed control timing will be more important in wheat this year due to the delay in closing the crop canopy. "Wheat is normally very competitive with weeds, but late planted fields that still have not closed the canopy are seeing winter annual weeds germinating," Pennington notes.

Pastures conditions were reported to be looking good, but in some areas were too wet to put cattle out, USDA reports.

In Wisconsin, farmers took advantage of a few brief windows of sun to seed corn and oats and spread manure. Fields in many areas remained too wet to access and cold soils hampered the emergence of planted crops.

Moderate to severe winterkill was becoming evident in alfalfa, particularly in low spots where water ponded and froze, according to the USDA report. Winter wheat condition was mixed, though some commented that winter wheat was in noticeably better condition than hay.

Corn planting was four days behind last year and eight days behind the average. Oats planted were reported as 28 percent complete, one day ahead of last year but nine days behind the average. Eleven percent of oats had emerged, three days ahead of last year but six days behind the average.

Winter wheat was 45 percent in good to excellent condition statewide, up 1 percentage point from last week. Pasture condition was rated 36 percent in good to excellent condition, up four percentage points from last week.

Planting Concerns

"Based on planting conditions many producers have been asking questions about their crop insurance policy to verify the final plant date, what options they have available, and what Preventive Plant Coverage means for their policy," says David Moll, GreenStone Crop Insurance Specialist. "The best thing to do is talk with your crop insurance specialist to discuss your specific policy. For a Revenue Protection Policy, the final plant date for full coverage is June 5 for corn and June 15 for soybeans."

Producers can still plant after those dates with a 1 percent decline in coverage per day until the end of the late plant period.

"A Preventative Plant Claim is when a producer is not able to plant due weather conditions and other producers in the area have the same issue, the field is left idle for the growing season," Moll says. "To qualify, a producer needs to have at least 20 acres of a crop or at least 20 percent of that crops total acres falling within Preventive Plant."

If your planting is delayed and think you may not get your crop planted, contact your Crop Insurance Specialist to discuss your options and to file a Preventative Plant Claim.