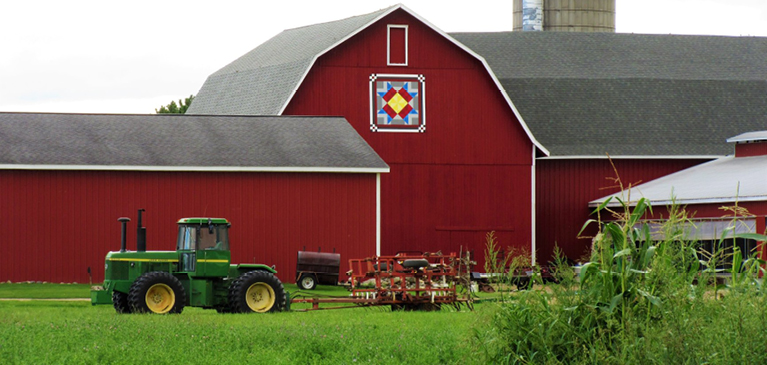 Family quilts symbolize much more than warmth and comfort- passed down through generations, quilts represent a family's heritage. Squares from these beautiful quilts began popping up on barns across America, inspiring rural communities like those in Gratiot County to showcase their family's history on a barn quilt block.
Typically inspired from a single square on an heirloom, patterned quilt or a specific design representing the family's farming operation, each barn quilt has a unique, one-of-a-kind meaning. Ranging from four-foot to eight-foot in size, barn quilt blocks are made from processed plywood and affixed to the side of barns. Although barn quilt blocks have only been around for the past 20 years, they are a beautiful way to decorate barns while paying tribute to a family's heritage.
Founded in 2015 by Cathy McCune and Becky Roslund with the help of Deborah Rutkowski and Gratiot Area Chamber of Commerce, the Gratiot County Quilt Trail promotes agro-tourism, encourages urban communities to experience barn quilt blocks in person and learn more about the meaning behind each one. The quilts range in color and meaning, with many symbolizing the history of multi-generational farm families and a love of quilting. Deborah met with many farm owners and helped them decide which pattern or designed best represented their family or farm's history. Today there are 70 blocks along the Gratiot County Quilt Trail and Debra hand painted almost every one.
"Our goal was to get people into rural communities so they can see what is going on and what agriculture is all about," says Cathy McCune, co-chairperson. "When we began, we thought having 25 blocks would be awesome, but it has blossomed into so much more."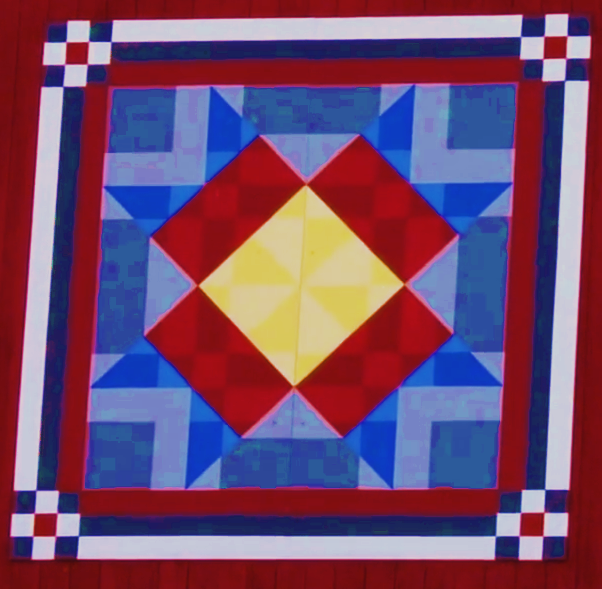 The McCune family farm has been home to many generations and the centennial barn quilt block chosen perfectly represents the family's long history at the farm. Committed to their cows, land and community, the McCune family enjoy sharing the story of their barn quilt and love of farming with others. The beautiful quilt block hangs on the original barn built by the first family to farm there.
"My husband and I, along with my daughter and my grandkids, helped create our block," Cathy says, "so three generations of our family painted the quilt block hanging on our barn."
Established in 1888, the Defever Homestead Centennial Farm boasts a beautiful barn quilt block highlighting the many backgrounds of each generation occupying the farm. In the center of the block, the Mariner's compass separates the Belgium, Scotland, Germany and Ireland flag, representing the history of each of the four generations. The barn quilt block is the 13th stop on the trail and hangs high on the farm's original barn for the Defevers to proudly share their family's history.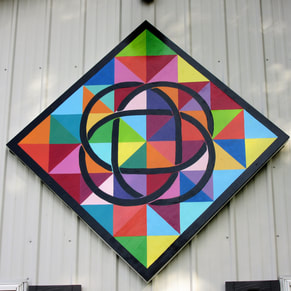 Although she was a co-chairperson of the Gratiot County Quilt Trail, Becky (Fitzpatrick) Roslund was hesitant to add a barn quilt trail to her family's farm. She was not a quilter, nor did she have any ideas for the block. After seeing a colorful Swedish postcard, she knew she had found her inspiration. The Swedish postcard pattern represents the Roslund family's history and the Celtic Irish knot in the center of the block symbolizes the Fitzpatrick's Irish heritage.

"Our quilt block is the first thing I see in the morning and I really enjoy it," Becky says. "One of my favorite things about the trail is seeing how proud families are when the barn quilt blocks they helped dream up were hung."

Barn quilt blocks are a unique and beautiful way to display a farm family's history on a piece of history on the farm- the barns. If you are interested in driving through the Gratiot County Quilt Trail, please be respectful of the private property and residents where the blocks are located. For more information on the trail and various stops, please visit GratiotCountyQuiltTrail.com