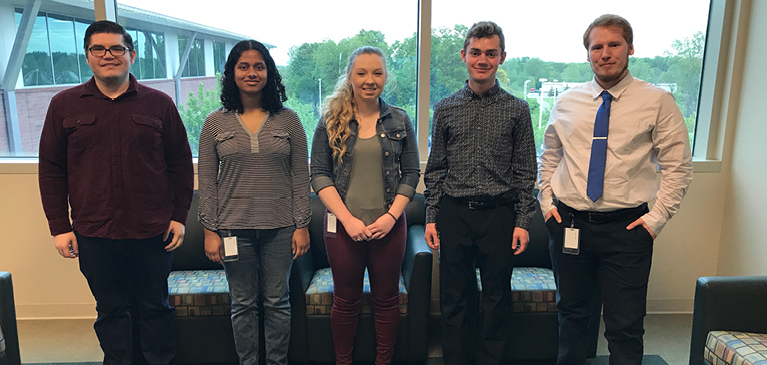 Pictured from left to right are: Robert Dunne, Tanya Das, Taylor Hawks, Zachary Johnson and Adrien Freundl

The information systems (IS) interns are assisting employees with trouble shooting software and equipment malfunctions, working on the servers and system applications. These are just a few of the tasks that the IS interns have been able to complete in their first few weeks. Throughout the summer, they will have the opportunity to help with new system integrations and GreenStone application updates.

Interning at GreenStone this summer, these students will have the opportunity to earn college credit toward their degree, gain experience working in their field and build relationships with other interns and employees. They will also attend internship events such as an etiquette lunch, volunteer day and a farm visit.

Robert Dunne – Systems Administrator Intern

Interviewing for the systems administrator internship gave me an opportunity to see how GreenStone operated. I was impressed with the people I met and the systems they told me are currently in use. GreenStone's technology is advancing and their systems are constantly improving. I knew I wanted to be a part of that!

Having graduated from Grand Valley State University (GVSU) in May with my bachelor's degree in Information Systems, I believed an internship at GreenStone would be beneficial for me. Prior to GreenStone, I worked at GVSU at a helpdesk and desktop support. In addition, during two summers I worked at the University of Michigan in quality assurance for System Center Configuration Manager (SCCM) software deployments.

While interning at GreenStone, I look forward to learning new systems while also refining my skills on the ones I already know. I will also have the opportunity to learn different aspects within the technology industry through working with my diverse team members learning new skills.

Tanya Das – IT Security Intern

While researching the company further, I found GreenStone is a cooperative that focuses on community, participation and integrity. These qualities are important to me in an employer because they align with my personal values as a member of a housing cooperative in Ann Arbor.

The housing cooperative is one of the largest in the country and it focuses on responsibility, community and social equality. Members of the cooperative work a few hours a week to keep the house running, whether it be cooking, cleaning or office work.

At GreenStone, I'm looking forward to learning more about the financial services industry because I previously worked at Mercedes Benz Financial Services last summer as a data analyst intern. While at the University of Michigan, I'm majoring in computer science and involved in the Society of Women Engineers.

Taylor Hawks – Business Analyst Intern

GreenStone has always been a big part of my life because my family have been customers for many years. While I was a senior at Millington High School, I received a scholarship from GreenStone. Ever since then I knew it was a possibility I could work there in the future but I didn't consider it until Steve Junglas, chief information officer, came into my past work place and told me about the internship.

While growing up I was very involved in 4-H, I was on the council for five years and a leader for two years. In 2016, I was the Tuscola County fair queen and I now lead the royalty program where I help them learn valuable skills they will use throughout their life while also helping promote agriculture. I've taken these leadership opportunities with me to Michigan State University where I study horticulture when I joined the rodeo club on campus.

I'm looking forward to combining my love for horses, dairy and agriculture while working at GreenStone!

Adrien Freundl – Service Desk Intern

After talking to one of my family members, a former employee of the GreenStone IS Department, she told me about the company culture and expectations. It sounded like a company I really wanted to work with. Before I applied, I did research on the company and I thought GreenStone would be an excellent company to gain industry experience. While attending Ferris State University (FSU) I'm required to complete an internship as part of my computer information technology major.

When I attended Traverse City Central High School, I also attended the career tech center. At the tech center, I began learning about information technology and jump-started my career in the industry.

During my internship, I intend to learn more about how a company such as GreenStone works together internally to accomplish keeping all of the systems up to date and running properly. I'm also excited to learn about the different careers within the IS department so I have more industry knowledge going back to FSU for my final year.

Zachary Johnson – Application Developer Intern

Last fall, at Michigan Technological University (MTU) where I study computer science, I attended the career fair. At the fair, GreenStone was one of the employers I spent some time talking to and I realized after attending the fair that they were a company I wanted to apply to.

This opportunity to intern at GreenStone is my first internship in my industry, which is very exciting to me as I'm eager to learn about how GreenStone has created their systems applications and how they all interact together.

After graduating from Port Huron High School and developing a passion for technology, I also developed a passion for the Spanish language. Currently at MTU, I'm very involved in the La Peña and Spanish y Cerveza clubs on campus.


Check back every Wednesday for new posts about GreenStone careers where we will highlight more interns.

Are you or someone you know looking for an internship? Find out more about the GreenStone internships and careers here.