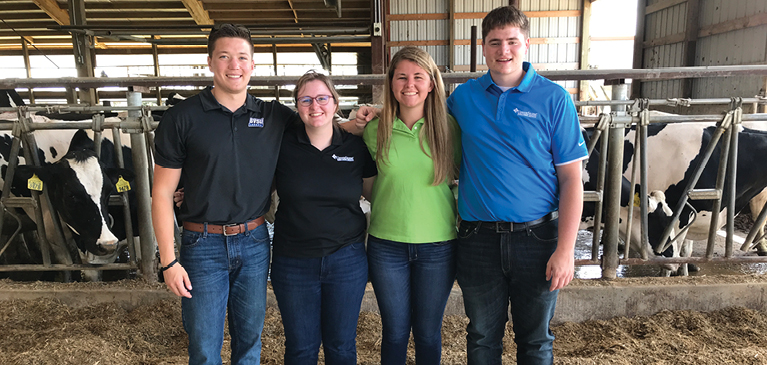 Pictured from left to right are:Ben Littlejohn, Caitlyn Myers, Lindsey Smith and Travis Bodhaine

Learning how to read balance sheets, crunch numbers and create reports are just a few of the tasks these credit interns are completing this summer. Working within the commercial lending unit and country living credit teams, these interns will work alongside full-time employees to learn and grow their skill sets.

Interning at GreenStone, these students are earning college credit toward their degree, gaining experience working in their field and building relationships with other interns and employees. They will also attend internship events such as an etiquette lunch, volunteer day and a farm visit.

Ben Littlejohn - Commercial Lending Unit Credit Analyst Intern

Working in the commercial lending unit as an intern for over a year has showed me what full-time employees in a credit role do on a daily basis and how my job affects our members. I also work with other employees to assist with data entry and reporting.

During my internship with GreenStone last summer, I had the opportunity to complete a greenhouse operation peer comparison. This summer I am working on a peer comparison for row crop farmers. These peer comparisons allow our members to see how well they are doing compared to their peers within their industry.

I am really looking forward to experiencing different departments through job shadowing within GreenStone as I gain more knowledge about loan processing and the functions of each department.
In December, I will graduate with a bachelor's degree in finance from Davenport University. This internship experience will be invaluable to me as I finish college and look for a full-time position.

Travis Bodhaine - Commercial Lending Unit Credit Analyst Intern

During the past two summers, I worked on a farm assisting with daily tasks that the farmers needed help with. In doing so, I saw first-hand how hard the farmers worked and I knew I wanted to continue to pursue another way assisting them in the future whether; it was through a direct or indirect method.

Going to school at Michigan Technological University, I knew I wanted to be closer to home for the summer, so when I met GreenStone at the career fair I was excited to apply and interview with them. GreenStone has enabled me to broaden my interests and skillset.

In my free time, I enjoy anything that allows me to think and ponder before making moves, while also enjoying active activities. You can find me playing chess, poker, board games, golf, or snowboarding.

Caitlyn Myers - Commercial Lending Unit Credit Analyst Intern

I began at GreenStone in January in the credit assistant program. In May, I transitioned to my credit internship where I am currently working on dairy farm peer comparisons. These comparisons will not only show farmers where they compare financially with other farmers, but also their production and some processes as well.

Growing up in Hope, Mich. I had the opportunity to raise horses and go to horse shows. I still enjoy showing horses and inspiring the next generation of horse riders. I also was involved with 4-H and I saw GreenStone prominently sponsoring 4-H events and county fairs I went to.

During my internship, I am looking forward to getting to know my fellow interns and learning more about the Farm Credit System.

Lindsey Smith - Country Living Credit Analyst Intern

While attending Michigan State University (MSU, gaining work experience and volunteering have been crucial to me. Working at the MSU Pavilion for Agriculture Livestock and Education opened my eyes to how involved MSU is with agriculture and the possibilities surrounding it. I volunteer with the Spartans Rebuilding Michigan volunteer club and Read to Succeed as a volunteer tutor.

I first heard about GreenStone not too long ago when my friend received a loan and they said it was a great overall experience, and the staff was very knowledgeable and easy to work with. After they had that experience, I knew GreenStone was a company I possibly wanted to work for; so when I saw the credit internship open, I applied right away. I knew after interviewing GreenStone had the small town feel I was looking for in a future employer and I wanted to be a part of the team!

During my internship, I am looking forward to assisting with the daily tasks of my department and being a contributor to completing the underwriting processes of loans.


Check back every Wednesday for new posts about GreenStone careers and intern highlights.

Are you or someone you know looking for an internship? Find out more about the GreenStone internships and careers here.