For eleven years, the annual Michigan Livestock Expo has celebrated perseverance, dedication and effective teamwork in youth from all over Michigan. The event showcases talent and months of hard work each exhibitor puts in.
The 2019 Michigan Livestock Expo took place July 9 – July 16 with over 540 registered exhibitors from throughout the state. The Expo promotes agriculture while instilling responsibility and character in the youth. Individuals between the age of 8 and 21 were able to compete for scholarships, many who return to the show each year. Nearly $40,000 was awarded in scholarships for exhibitors that placed top five in their age category.
For 12 year-old exhibitor Emma Noll of Croswell, the 2019 show marked her third year competing in the beef show. Growing up on a dairy farm, Emma is no stranger to hard work and is always eager to start her livestock project. She began training her steer, Bronco, in the beginning of October, and routinely worked with him two to three times each day until the event. Her consistency and commitment continue to pay off as she has placed in the sale all three years. This year, her steer was named grand champion crossbred market beef, earning her a spot in the sale when her award-winning steer was purchased by GreenStone employees.
"It takes a lot of time and is something you have to get used to," Emma explains. "My dad really helps me and knows what he is doing."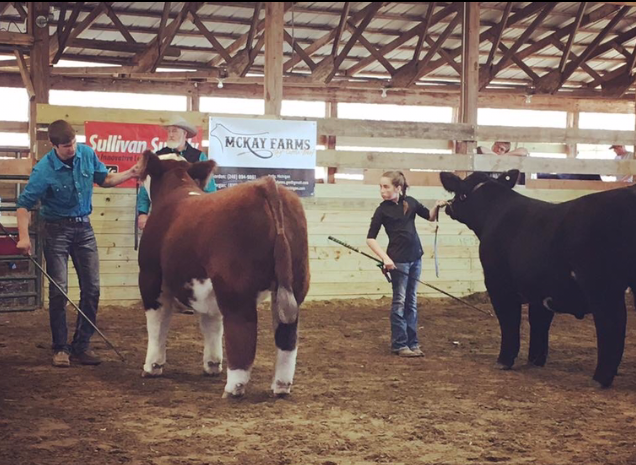 Emma's favorite thing about raising Bronco is competing in shows throughout the year. She competed in a show each month in preparation of the Michigan Livestock Expo. Like many other exhibitors at the show, teamwork and strong support systems help Emma succeed. When she is not busy playing softball or basketball, Emma enjoys training Bronco with friends from her show team and 4-H.

"My dad helps my brothers and cousins and I a lot," Emma says. "We all work with each other to get everything done."

Emma is thankful for the time spent working on her steers with her father and his help coaching her. She has formed friendships through her show team, working with the Crowe family, and competing with her brothers and cousins at shows. Emma is grateful for both the experiences and friendships the Michigan Livestock Expo has provided for her over the years. In addition to the endless memories she has made throughout the seasons, her leadership skills and responsibilities have grown tremendously, molding her into the young lady she is today.

Participating in the show each year helps pave the way for Emma's future. She has her eyes set on becoming a veterinarian or a career in the agriculture industry. Like Emma, the show shapes the future for many youth and promotes careers in agriculture. Aligning with their mission of cultivating and developing future leaders in the agriculture industry, GreenStone is honored to be an annual sponsor of the Michigan Livestock Expo. The cooperative takes pride in supporting their members and personal development of youth.

For more information on the Michigan Livestock Expo or how to support the youth in agriculture through the expo's scholarship fund, visit www.milivestock.com.