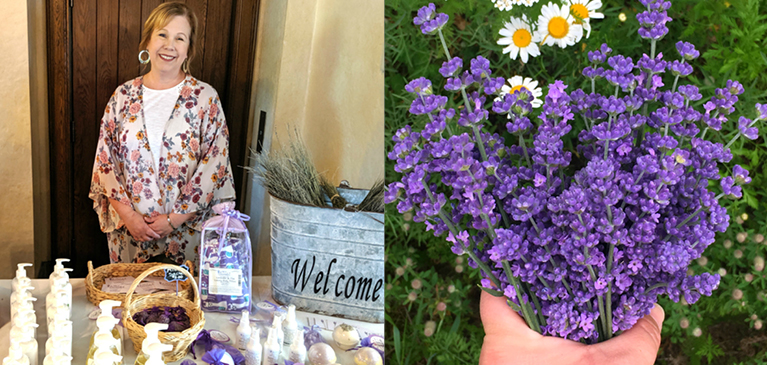 Walking into the Shades of Lavender farm store draws a universal "AHhhhhhhh" reaction from visitors as they breathe in the strong, natural scent of fresh lavender plants.

Janene Rawlinson, store proprietor and lavender farmer, barely registers the heavy signature scent perfuming the air.

"I'm so used to it," she says. "I taught myself how to make lavender flower bundles, essential oils and hydrosols [floral water] in my basement, and before we opened our retail store on our property, I schlepped everything to craft shows. Now I have an onsite workshop with a certified kitchen, so I am surrounded by the smell of lavender all day as I work."

Janene's unusual path to lavender farming began as a challenge from her husband, Scott. She was a fulltime dental hygienist in Kalamazoo when the couple bought a new home in Mattawan, and ended up with acres more property than they planned on.

"Scott announced that we needed to make the land work for us," she recounts. "Then he looked right at me and said "Janene, you like to do research – can you figure out something?"

At the time, knowing she did not want to do clinical hygiene forever, Janene was working on getting a bachelor's degree in business. Tasked with creating a business plan for one of her classes, Janene decided to kill two birds with one stone and discover what kind of business could be created with 10 acres of rural land.

Their new property consisted of five acres of white pine forest and five acres of sandy soil. Her research told her that lavender thrived in that environment, and although intrigued, she was hesitant.

"Understand," she says, "I have not always had a vision or dream of being a lavender farmer. I knew farming was hard, hard work, and owning your own business is not easy either!"

Janene's research told her that lavender was an amazing plant. There are many varieties; the English and French lavenders are the most popular and have multiple purposes. Fresh or dried, the lavender flower is an ingredient in teas and recipes, and in many soaps, candles, oils and lotions. Lavender has antibacterial and antifungal properties, too.

Janene started to get excited about the potential for products.

Her business plan indicated that she and Scott would not necessarily get rich from lavender farming, but they could earn a living. The couple started with 400 plants, and are now up to 1200. Lavender flourishes in a field that receives full sun and has sandy soil. Overwatering kills lavender, which is why the Rawlinson's raise their plant beds to keep the lavender high and dry.

"We just finished a very successful U-pick season. Last winter's polar vortex damaged many of our plants, but overall the diversity of our 12 varieties of lavender helped pull us through. Looking ahead, Scott and I would like to expand our agri-tourism offerings with farm-to-table dinners and more onsite classes," Janene shared.

The couple credits a large part of their success to GreenStone's support for their small farm business.

"Financial Services Officer Jessica MacDonald knows who we are and what we need; she is always ready with answers to our many financial questions. We use GreenStone's tax and accounting services, too," Janene acknowledges. "Senior Tax Accountant Elizabeth Waldschmidt saved us money when she quickly found we were overpaying our farm's unemployment taxes. It is great to have cheerleaders at the Schoolcraft branch celebrating our accomplishments and it's clear that Jessica, Elizabeth and their entire team work hard to respect and hold up farmers."

Jessica admits it is a pleasure working with her Shades of Lavender clients.

"Janene's positive attitude is infectious and her persistence is paying off. Her property is beautiful and her products are amazing. I look forward to the bright future of her lavender farm!"

Janene chose to retire from the dental hygiene industry last year. Making the land work for her and Scott is her new career; and she is happy to share the benefits of lavender with everyone who attends a class or visits the Rawlinson's thriving farm and store.