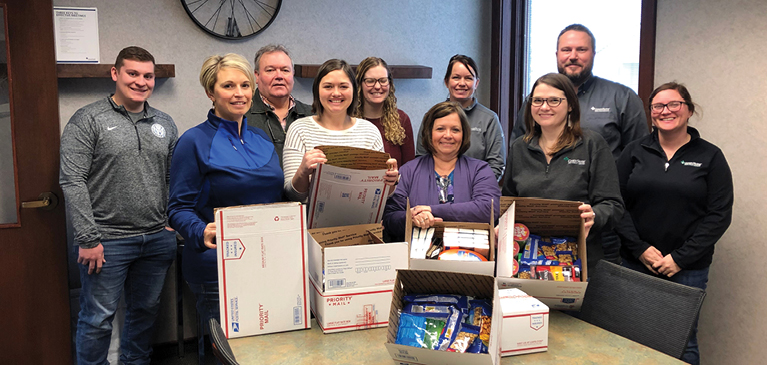 Throughout the holiday season, many GreenStone branches support a local cause. This year the Alpena and Mt. Pleasant locations decided to come together to support our military troops halfway across the world. It started as a suggestion from Financial Services Officer Karen Ansell, whose son is deployed in the Air Force. He had mentioned that morale was low around base.

It did not take long for both locations to stand behind Karen and begin collection items from a wish list to send to troops stationed overseas. Regional Operations Coordinator Molly Graham quickly began organizing the donations to ship to Karen's son.

"As a team we support an organization in the community every year," explains Molly. "This year, Karen mentioned she would be sending items to the troops to help improve morale. We thought it would be great to go along with her and support our men and women in the military."

"My coworkers are absolutely amazing," says Karen. "In just under a month, enough goods were collected to fill eight boxes with personal items, snacks and puzzle books."

"My son was quite excited when the boxes arrived, and said it was well received by the people he served with. I loved knowing we brightened the day of men and women who choose to defend our country," Karen added. "We are so fortunate in many ways. Since we always pick an organization to donate to at Christmas time, it only seemed fitting to send some goodies overseas."

"It is heartwarming to see our team come together to support one another, and to meet the needs we see in the community," agrees Molly. "We, as a team are very fortunate to have the ability to give back to others."

GreenStone is a firm believer in giving back to the local community, and beyond! As a member-owned cooperative, we are grateful to have employees reflect our mission and strive to be involved in the communities where we work, live and play.

Thank you to the Alpena and Mt. Pleasant locations for exemplifying GreenStone's mission!