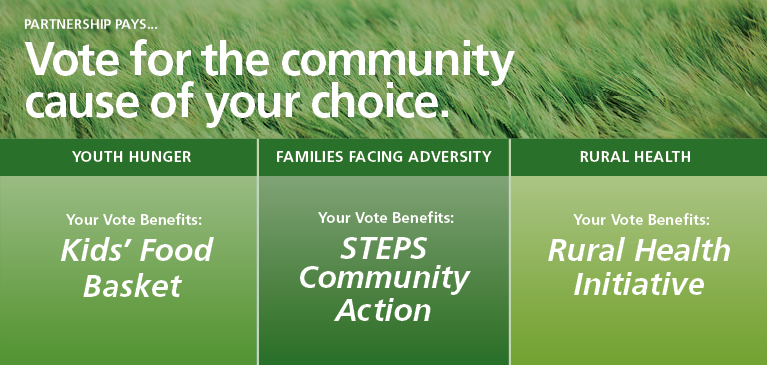 "What if everything you're going through right now is preparing you for a dream bigger than you can imagine?"

To celebrate GreenStone's milestone of returning $100 million dollars to members on Patronage Day, $20,000 will also be donated to organizations through the cooperative's Member Grown Outreach program. Each year the program provides members the opportunity to get involved and help GreenStone select a cause to support through voting. This year, organizations representing Youth Hunger, Families Facing Diversity and Rural Health were selected based on staff nominations for members to vote on.

From Patronage Day (March 11) to March 31, members will be able to vote online or in their local branch for one of three organizations that best represents the cause they would like to see GreenStone support. The $20,000 will be divided based on votes received; first place will be awarded $10,000, second place, $6,000, and third place, $4,000.

One of the three organizations members will have the opportunity to vote for is STEPS (Success Takes Every Person's Support) Community Action Center, located in central Michigan. According to the mission statement, "STEPS is dedicated to taking action to assist individuals and families in need, at‐risk, struggling, and/or facing a crisis in our community."

STEPS Community Action Center was formed last year when two organizations, The Foster Closet of Michigan‐Livingston County and The Giving Barn, merged. STEPS is an all‐volunteer, non‐profit organization focused on serving foster children, mothers fleeing domestic violence, homeless families, and single parents struggling to make ends meet.

"This organization is unlike any other charity. Through our volunteers, we go out into the trenches in the community; we go into people's homes, we use our own vehicles to transport items from donors to families in need. We take each need as it comes in and fulfill that need directly, without all the paperwork," says Executive Director Danielle DeVries.

"Our goal is to help people as quickly as possible by removing the red tape and barriers -- to meet an immediate need so we can help them take the next 'STEP' to strength, healing, and hope. STEPS helps preserve families by taking care of basic needs so parent(s) can focus on the larger issues and get themselves to a more stable place in life. We physically and emotionally invest in the people we serve. "

When kids come into foster care, they typically arrive with nothing. Through STEPS' Foster Closet, children can come in and 'shop' for clothing, socks, underwear, and toys, which provides a huge financial relief to foster parents. Without this help, many foster families would not be able to afford fostering; this assistance allows foster parents to focus on bonding, begin the healing process and help kids rebuild self‐esteem.

STEPS is 100% donation driven and receives no funding from the government. STEPS provides everything from beds, dressers, pot and pans, clothing, shoes, baby gear, hygiene products, diapers and wipes, and more. Everything donated is directly distributed to those in need, FREE OF CHARGE.

The organization is growing and the funds from the Member Grown Outreach will go towards giving the organization a new home.

"STEPS is hoping to raise enough money in 2020 to purchase a building, as currently we operate out of two separate smaller locations. One is on private property, making it extremely difficult to coordinate logistics, review inventory, and continue to take donations," says Danielle.

"Centralizing our operations into one location will provide the primary benefit of being able to help more families in need."

Get involved with STEPS Community Action Center!

Check back in the coming weeks for information on the other two organizations represented in the Member Grown Outreach program, and stop into your local branch on Patronage Day, March 11, to vote in support of your favorite cause!