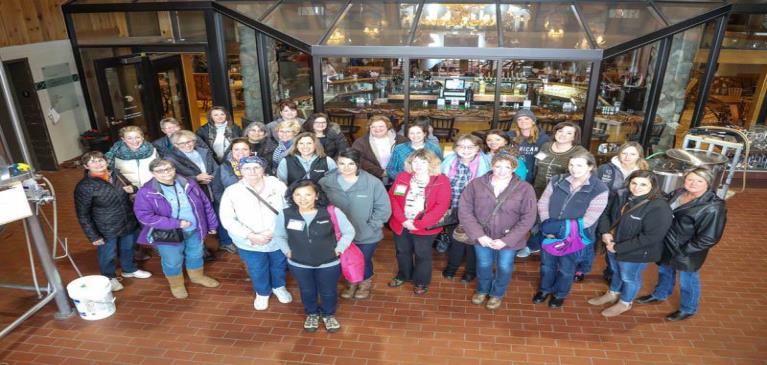 Bringing women in agriculture together for fun, learning and fellowship.

Nearly 30 years ago, a group of farm wives came together with the help of Michigan State Extension to form the Farm Women's Symposium (FWS). FWS is a non-profit, volunteer-run organization that works to bring women involved in agriculture together. The main event spans three days every March, rotating around the state of Michigan. It brings together multiple generations of farm women and includes industry professionals, farm managers, and farm wives and daughters.
In 2020, the women in attendance spent three days at TreeTops Resort in Gaylord, Michigan, hearing from a variety of inspirational and educational speakers. Topics were covered that affect everyday life in agriculture, from potatoes to social media, advocating for agriculture and all points in-between. Highlights of the trip for most were the bus trips touring local operations with stops that included Gaylord City Elk Park, Alpine Maple Farms, Alpine Chocolate Haus, and Big Buck Brewery.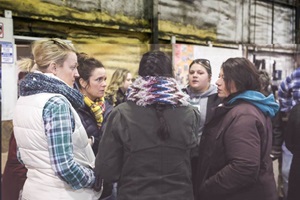 "It brings my heart pure joy to see these women in agriculture come together to grow in learning, gather to fellowship and build friendships that last a lifetime," says Wanda Skinner, GreenStone financial services officer and vice-chairperson of FWS. "It truly is a pleasure being with ladies from all different farming backgrounds as they share their uniqueness; some specialize in cash crops, fruit, veggie, dairy, beef, organics and even cotton."
GreenStone has a rich history with this event, not only as the only Platinum Sponsor but by sponsoring 51 members and 14 employees from around the state of Michigan at the symposium in 2020.

"Because of GreenStone's gracious support and a number of other agricultural businesses, Farm Women's Symposium would not be as successful of an event," says Emelee Rajzer, GreenStone financial services officer and FWS promotions chair.
FWS continues to be an informative, highly-anticipated event for farm women and a chance for them to take a break from their daily duties, enjoy themselves and recharge. If you are interested in learning about the Farm Women's Symposium or attending next year, please click here or contact your local GreenStone branch.


Photos courtesy of Christina Gelder.