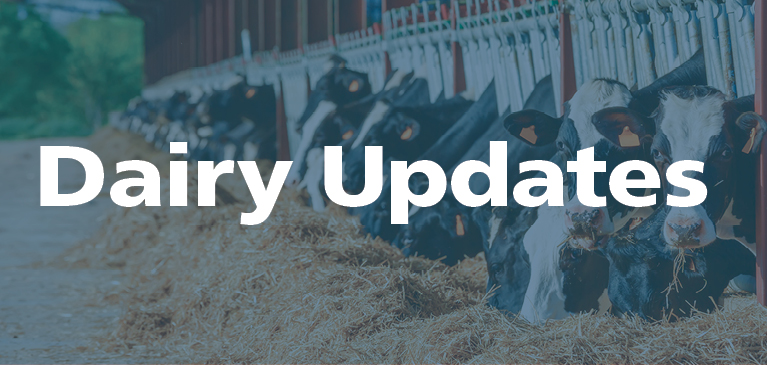 A Look into DRP and the Proposed NMPF and IDFA Milk Crisis Plan
This is a critical time for many of our members, and GreenStone Farm Credit Services is committed to working with you. In addition to the loan programs we have made available, our risk management tools continue to provide options for your farm.

Dairy Revenue Protection (DRP) remains available. We anticipate good opportunities, including potential increased program flexibility, in the coming weeks to help you capitalize on and mitigate some risk in this tough time.

If you already signed up for DRP, please continue to work with your crop insurance specialist and use the DRP Analyzer Tool to find the right risk management strategy for your operation.

If you have not yet signed an application for DRP, this is a good time to speak with our DRP experts on how the program can work with your risk management plan. Submitting an application does not bind you to any coverage, but it does allow you to be ready to complete an endorsement when you deem the product adequately supports your risk management plan. In addition, it provides you access to GreenStone's DRP Analyzer Tool.
The DRP price report linked above is generated by GreenStone's DRP Analyzer Tool. It can be customized to your farm and includes current price floors and their respective premium rates.
In Michigan, contact GreenStone's Michigan DRP crop insurance specialist to get started:
In Wisconsin, contact one of GreenStone's Wisconsin DRP crop insurance specialists to get started:
Industry News: NMPF and IDFA Proposed Milk Crisis Plan
Monday night, National Milk Producers Federation (NMPF) and the International Dairy Foods Association (IDFA) submitted a plan to the USDA to combat the current dairy crisis caused by COVID – 19. Included in the proposed plan are three main categories: Producer Initiatives, Processor Initiatives, and Consumer Initiatives. If approved, the plan is intended to address at least 10% of the dairy supply surplus existing due to the closure of schools, lack of restaurant service, and the reduced processing at some dairy plants.

To help you prepare should the plan be enacted, here are the details you need to know.

Producer Initiatives:

Under the plan put together by NMPF and IDFA, all U.S. producers would be asked to cut milk production by 10%, based on a March 2020 baseline. With the ask is an incentive for all producers to comply: a $3 per hundredweight payment on the other 90% of their produced milk. The added payment would only be made if the average Class 3/Class 4 price remains below $16 per hundredweight. At this time, it is uncertain if the added payment would be proportionate to the average futures price for that time period, giving producers a fixed maximum price.

An alternative producer initiative being proposed is for a payment to be made on milk being dumped by producers. There is also the call for the Dairy Margin Coverage (DMC) program, administered through the USDA FSA, to be reopened for producer sign-up that would be retroactive.

Processor Initiatives:

The proposed plan includes a loan program for processors to provide access to additional working capital. The funds would only be able for Federal Milk Marketing Order (FMMO) component costs; they would not cover other aspects, such as packaging. FMMO components include butterfat, protein, non-fat solids, and other solids. In addition to this loan program, there is a request for another forgivable loan program for processors that would be similar to the loan program available through the Small Business Administration.

Consumer Initiatives:

The consumer proposal includes the call for large purchases of dairy products by the USDA. The dairy products would then be distributed to food banks. It is also proposed to lift limitations on food programs, such as WIC, to provide consumers a wider variety of dairy products options. Improving nutritional programs, such as the Supplemental Nutrition Program, to better address food security and boost retail sales of dairy is also included in the proposal.

With these proposals being put in front of the USDA, there is big question mark as to which route they will take. There is a still a lot of uncertainty in the marketplace, with many unanswered questions and with more being added. Purchasing a floor through DRP is a very viable option, especially when prices rise.

We encourage you to connect with your crop insurance specialist to benefit from any pending product changes.