GreenStone Directors and Farmers Andy Snider and Dale Wagner discuss why they serve the cooperative, and the partnership with members and employees that inspires the work of the board of directors -- even under the most challenging circumstances.
"There are 16 GreenStone directors; we are very diverse and the majority of us come to the boardroom right off of our farms, knowing what's going on in our communities. There are people out there just like me, who are counting on us as a board to make sure the association is here for them when they need it. GreenStone understands the cyclical nature of agriculture. Being able to share that with our neighbors in our districts, giving farmers the confidence to know that the co-op is going to be there to support them through good times and bad, inspires all of us to serve." – Andy
Dedication to the agricultural and country living customers we serve is at the core of our company mission. Inspired by these farmers and rural property owners, GreenStone is committed to embracing a company culture of engaged board members and employees who are equipped with the knowledge and resources to best support customers and serve our communities.
"Our employees are friendly. They are professional, caring, and one of GreenStone's biggest strengths. They are not engaged because they're getting a paycheck; they're engaged because they love what they are doing. They love the people that they work with." – Dale
Launching an internal program of professional development is helping GreenStone raise the bar for customer service to meet the evolving needs of our cooperative's members. We've instituted improved team communication along with sales and technical training, because we recognize our greatest strengths are our employees and the relationships they forge with our members.
Providing vision for the future with a focus on our people first, while actively supporting our workforce is key to GreenStone's strong profitability, stability and superior customer service. "Inspire One GreenStone" is an important pillar of the 2020 business strategy, and a board-supported initiative designed to benefit all of our customers.
"One of the unique things about GreenStone is the people that govern and give direction are all members. Granted, we have 25,000 members and there are 16 of us on the board, but when I am in the boardroom, I'm not afraid to take off my boardroom cap and put on my farmer cap and use my farmer voice." – Dale
Unanimously approving the return of $100 million dollars in patronage to members was a strong vote of confidence in both the cooperative and in our farmers and rural customers by GreenStone's board of directors. This year's return constitutes nearly 50% of GreenStone's net earnings, and provides members with a 'pay back' for their continued business during an extraordinarily difficult season.
The hard work and perseverance of farmers in Michigan and Wisconsin has been an inspiration to all of us at GreenStone, and we are proud to support our agricultural partners.
"Everybody's different, and that diversity is what makes our cooperative strong. It is what's given GreenStone the growth and the ability to pay back patronage. The big thing about a co-op is we all own this company together. GreenStone has 25,000 members; obviously, I'm just a small piece of that. But, when I walk into my branch office, it's like it is part of my farm. If you view your lender as an extension of your business and you're in it together, there's give and take and it's good for both sides." – Andy
GreenStone will continue to build on business initiatives that began in 2019, and on the lessons learned while supporting our customers over a very challenging year. We are confident the resilience of our seasoned producers and the enthusiasm of our young, beginning and small farmers will create the innovation and technology that will carry us toward a successful future.
"GreenStone has been a wonderful partner for me and my farming business. My inspiration to be a GreenStone director is the youth that I have coming into my farm with my son joining the business. When you work with these young people that look to the future, it's pretty easy to continue to look to the future yourself." – Dale
VIEW VIDEO Inspiration is a pillar of our success.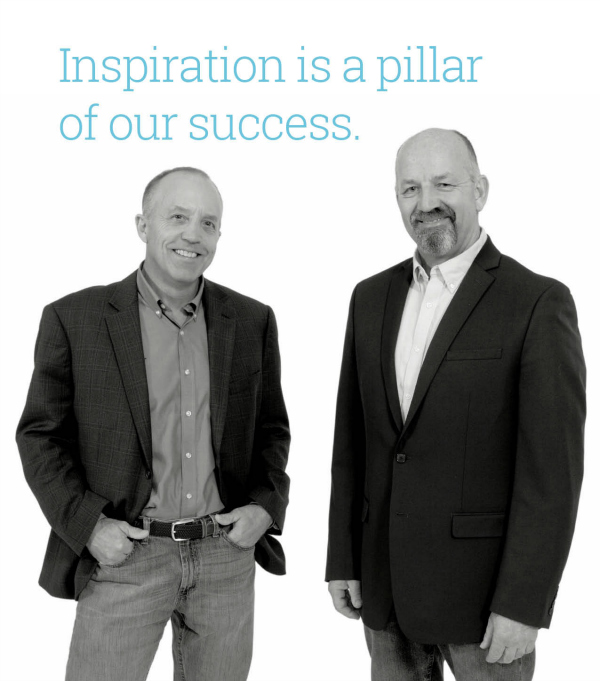 Image L-R: Andy Snider & Dale Wagner