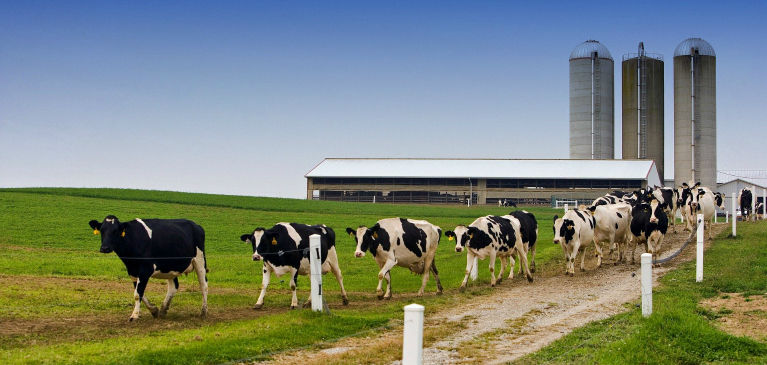 Lauren Heberling works as an appraisal intern for GreenStone Farm Credit Services, assisting with the on-site inspection of collateral, completion of appraisals, and collection/ analysis of sales data for both real and personal property. Lauren has enjoyed the past month on GreenStone's team and is thankful that her experience on a dairy farm inspired her to strive for a promising career in the agriculture industry.
Lauren grew up on a small dairy farm in Carsonville, MI, helping carry on the family tradition that her great grandfather started. Although Lauren's father recently sold the family's dairy cows, Lauren cherishes her memories. Lauren recalls that at times it can be difficult to be grateful for farm experience due to the large amount of hard work it requires, and offers the following advice to students to help them value their time on a dairy farm:
Appreciate family traditions: In Lauren's family, no presents could be opened on Christmas morning until the cows were milked and morning chores were finished. Traditions like this were tedious when she was younger, but looking back, Lauren realizes that these habits truly made her time on the farm both memorable and unique.
Know that some obstacles on the farm are unavoidable: Some of Lauren's hardest moments on the dairy farm included calves dying unexpectedly. She says, "It is always hard losing a calf. You feel like you didn't do good enough… and maybe missed a sign of a calf coughing." Lauren's father, however, continually reminded her that dairy farmers have no control over some issues on the farm and need to take each day at a time. After adopting this attitude, Lauren's involvement on the farm was more pleasant.
Join agricultural clubs: Lauren does not have plans to have her own dairy farm in the future but wants to stay in the agriculture industry. She ultimately owes her passion for agriculture to growing up on a dairy farm, but her involvement in 4-H and FFA, as well as her position as president of the Michigan State Dairy Club confirmed her interest and gave her connections for future career paths.
Gain valuable internships: Before being hired at GreenStone, Lauren interned with Michigan Milk Producers and Land O' Lakes. These internships established her real-world experiences in the agriculture industry and gave Lauren different skills than working on a dairy farm could provide. Moreover, these internships inspired Lauren to pursue a degree in agribusiness management and food industry with a minor in sustainable agriculture and food systems. When discussing her time at GreenStone, Lauren states how thankful she is that she can incorporate dairy into the business world.

GreenStone is proud to have Lauren as an intern and looks forward to seeing Lauren succeed in the dairy industry. Learn more about GreenStone's internship program HERE.