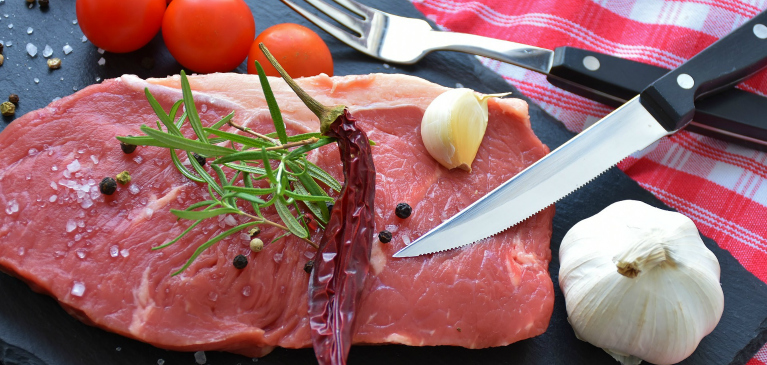 The road to normalcy in the beef industry, and much of the food system, is filled with twists and turns.
At the moment, cattle prices are poised to trend higher. That's thanks, in part, to a momentary pause in herd expansion, ongoing domestic demand strength and promising U.S. beef exports.
The industry is also trending higher because it's basically bottomed out right now, according to George Quackenbush, Michigan Beef Industry Commission executive director.
"In terms of cattle prices, we certainly hope we're in our worst times right now," he says. "Many of the bids being offered right now by cattle feeders are below cost of production. Prices for feeder calves are going to be a little lower than in recent years, so there will be a lot of pressure on the cow-calf segment."
Quackenbush is hopeful the outlook will improve in third and fourth quarters of the year, noting that futures markets have come back and improved in the last month or so.
As an example, the April 20-21 contract low was $98 a cwt. Today, that same contract is at $114 a cwt. "The break-even point varies widely from operation to operation, but it's generally above the live cattle futures price for several months," Quackenbush says.
The lower prices for feeder calves, combined with drought situations in some areas of the U.S., are signaling a contraction of the cow-calf segment. "Margins are being squeezed right now, and we expect about 1% of the cow herd to be liquidated.," Quackenbush adds.
On the other hand, he expects yearling feeder cattle, above 750 pounds, to increase in value the rest of the year.
Getting Past COVID-19
"What producers are telling me is we really need to get COVID-19 behind us," says Jeff Sommerfield, GreenStone Farm Credit Services VP & Commercial Lending Group manager. "Living with this uncertainty that changes week-to-week and day-to-day, is brutal."
Meat production slowed during March, April and into May due to coronavirus worker outbreaks at meatpacking plants. Some of the largest cattle and hog slaughter plants closed temporarily, reducing the flow of meat to grocery stores. Some chains limited customer purchases.
That resulted in a spike in beef sales, along with wholesale prices, as grocery stores sprinted to restock their shelves.
"Beef prices have since stabilized as processing plants are mostly back online," Sommerfield says. "If we can get schools, restaurants and other institutions back to normal, it would help."
Demand is the key. During the time when packing plants were down, it's estimated that one million head of market-ready cattle were unable to get processed. Packers are now starting to work through that backlog, operating above normal capacity.
"As of July 8, the U.S. was estimated to have an 845,000-cattle back up," Quackenbush states. "The packing segment has leverage right now and it will take some months to play out before the leverage goes back toward the cattle feeding segment."
The abundant supply of market weight cattle means consumers will likely benefit as prices drop.
The good news is consumer demand is positive, both domestically and on the export side of the equation, according to Quackenbush. "All through the COVID-19 disruption, consumers still went to the grocery store and purchased beef," he says. "In some ways, they came home to beef as a comfort food. And, with the grilling season, consumers have been very receptive to purchasing steaks and celebrating in the back yard. It's been very useful in getting through the backlog of cattle."
Because farmers were forced to hold back cattle, those now coming into packing plants are larger. "Cattle keep growing and with an extra 30-45 days of feed, there will be more pounds of meat. And, not just a little. If a carcass weighs 30 pounds more than normal and we are processing 660,000 head of cattle weekly, that's a lot of additional product on the market."
Overall, beef production this year is projected to be record-large, as is production of pork and poultry.
CattleFax projected total U.S. beef production about 600 million pounds higher this year than last year, at 27.7 billion pounds.
A Look at Exports
Beef exports have been down, but not a great deal overall.

The United States has exported 1.19 billion pounds of beef so far in 2020, down 1.9% from 2019, with Japan being the top destination, followed by South Korea and Mexico. This year to date, the United States has exported beef to 111 different countries.

"Exports are a great story for our industry," says Quackenbush, noting the rise in exports to Japan, which lifted a 2003 restriction on U.S. beef because of BSE in May 2019. Trade was bolstered further in Jan. 2020 with the signing of the U.S. and Japan trade agreement. "It creates a level playing field," he adds.

From January to May of 2020, exports to Japan have increased 11.27% over the same time a year earlier.

"Exports also provide a home for certain cuts of beef that we don't consume a lot in the U.S., like tongue and liver," Quackenbush comments, adding that beef tripe, which is edible lining from the stomachs, is popular in Asian dishes. "I have been told it's preferred to come from older animals, which could provide a marketing opportunity for dairy influenced cattle commonly produced in our region."