"Showing and raising livestock demonstrates the rewards that can be reaped from hard work," acknowledged Marty Kasperski, who spends his evenings working sheep with his daughter and his days working with farmers on financial solutions as a financial services officer at GreenStone's Lapeer branch.

"She's really found this to be her passion and primary hobby," he shared when asked to describe what showing livestock has meant to his 11-year-old daughter, Kaylee.
It is apparent that hard work, consistency, and determination are at the forefront of the Kasperski family's livestock raising routine, as Kaylee Kasperski earned quite the list of accomplishments at the recent Michigan Livestock Expo (MLE).

Showing her three lambs, Kaylee won a multitude of titles, but the most notable for her is the honor of winning Novice Lamb Showman, and ultimately going on to win Overall Lamb Showman. Kaylee is rumored to be the youngest winner of this title in MLE's history. And that accomplishment isn't even the one that earned her a spot in the coveted MLE Sale-abration – which is the sale that includes only the top eight lambs from the show. Her lamb was recognized as reserve overall market animal.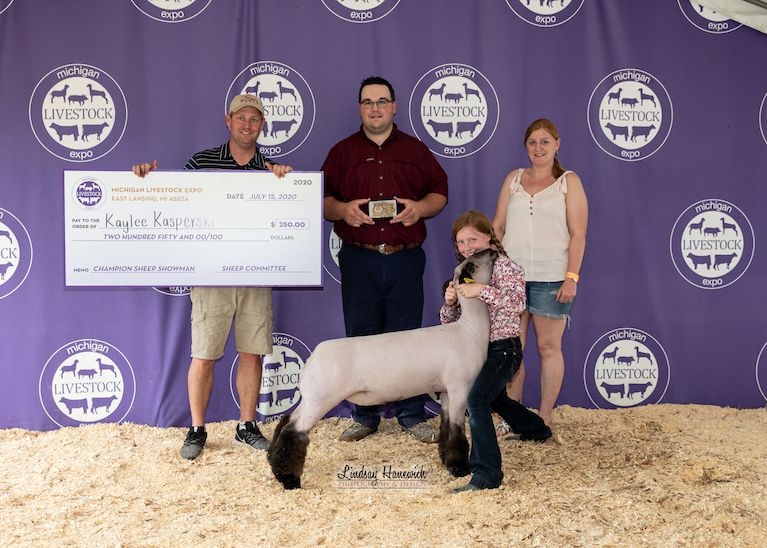 Showing livestock is a family affair, and Marty shares that he is glad he works for a company that also embraces that lifestyle.

GreenStone takes pride in supporting youth agricultural events and organizations throughout Michigan and Wisconsin, including the Michigan Livestock Expo. In addition to having many employees who participate in MLE through their family's involvement in exhibiting, GreenStone supports the efforts through our contribution of time and financial support. In providing graphic design services, sponsorship funds, and monetary contributions at the MLE Sale-abration, GreenStone works to help foster an event that is so meaningful in building the future of Michigan agriculture.

Despite the challenges that this year has presented, supporters of MLE and its youth exhibitors were able to contribute $235,000 at the annual Sale-abration – which GreenStone was honored to be a part of by supporting multiple youth with the purchase of their animals at the auction.

"The Michigan Livestock Expo is an event that we have, and will continue to support into its future," says MLE board member and former GreenStone President and CEO Dave Armstrong. "The event this year looked much different than it has in years past, but the enthusiasm of the exhibitors and supporters was undeterred. That passion is shared by our staff and carried through the communities we support!"