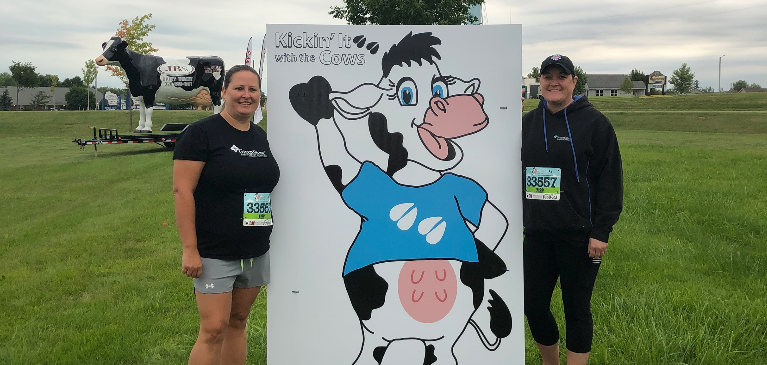 On Friday, August 8, GreenStone Vice President of Traditional Lending Michelle Backhaus and Customer Service Representative Tammy Lamers participated and volunteered in the 'Kickin' It with the Cows' run/walk. They were excited to see St. Jude Children's Research Hospital benefit through this GreenStone-sponsored event held in in Wrightstown, Wisconsin. Three hundred and twenty people registered for the event, successfully raising $15,000 to improve the health of hospitalized children!

"I like to see the agriculture industry helping something as big as St. Jude Children's Research Hospital," states Michelle. "I felt like we were actually making a difference in the lives of children."

"I am happy I was able to take part in this amazing event. It was a great time and I hope I can do it again next year." adds Tammy Lamers.

In addition to feeling pleased to be involved in their community, Michelle and Tammy felt confident in the COVID-19 safety precautions. This race generated a gentle flow of participating runners and walkers; the start line was open from 7:00 AM to 9:00 AM, allowing for a unique and relaxed experience, unlike normal 5Ks and 10Ks that have a shotgun start.

"There were never any big groups of people… I've done a handful of 5Ks and this was the best one yet!"

Michelle has volunteered numerous times in the past and has the following advice for any individual who is considering volunteer work:

"Volunteering for something that is close to your heart is really important. If you choose to volunteer, do something that you are passionate about…that way your heart will be in it."

The GreenStone community has been inspired by Michelle and Tammy's willingness to partake in the 'Kickin' It with the Cows' 5K, donating their time and energy to better sick children's lives. Their actions not only align with GreenStone's core values of getting involved and doing the right thing, but also with GreenStone's mission to provide leadership to agricultural and rural communities.