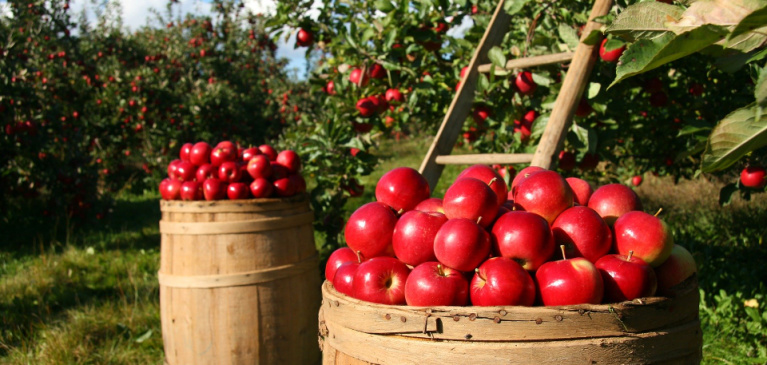 Apple growers endure, picking a plentiful crop

Michigan

Despite the many new challenges for apple growers this year, Michigan is expecting a very respectable crop in both quantity and quality.

The state's official crop estimate of 22.5 million bushels (946 million pounds) of apples was announced Aug. 21 as part of the USApple Outlook meeting, which was held virtually, due to the COVID-19 pandemic. The 2020 estimate is in line with the size of the 2019 crop, but down 2.5 million bushels from the 2018 harvest of 25 million bushels.

"Many factors contribute to the size of an apple crop, including weather and the size of the previous year's crop," says Diane Smith, executive director of the Michigan Apple Committee. "To make the estimate, growers and other industry experts report on what they are seeing in various regions of the state, then come to a consensus on the crop size estimate."

In Michigan, there are more than 14.9 million apple trees in commercial production, covering 34,500 acres on 775 family-run farms.

"Last spring there were a couple of frost events that had the industry worried, but after the terrible crop loss in 2012, so many growers have invested in frost protection tools and technology," Smith says. "Many of them made it through this spring with minimal damage. Some areas of the state were hurt more than others, but overall we expect a very good crop. Growers report that Honeycrisp, in particular, is looking exceptionally good this year, which means we'll have great opportunities for retail programs for that consumer favorite variety."

According to the Michigan field office of USDA's National Agriculture Statistics Service, acreage of Michigan apple orchards in southwest and southeast has gone down in recent years with an aging grower base and not many plantings of newer high-density orchards.

However, 70-75 percent of Michigan's annual production is in the Kent/Ottawa region, with the West Central region north of that area growing exponentially. The West Central growing region planted nearly 3 million trees in 2018 in high to super high-density plantings. The varietal mix in that area has been changing fast from process varieties to more fresh varieties in demand with consumers.

The list of the top 10 varieties consumed in the US has been changing the past few years, according to GreenStone Senior Crop Insurance Specialist Cory Blumerick. "We expect these changes to continue as newer varieties provide consumers with fresher, crisper, higher quality apples throughout the year," he says. "The marketing programs that are being implemented with some of these varieties are significant, and will likely sway consumers. Growers are continuing to attempt to be ahead of the curve when deciding varieties to plant."

Wisconsin

Wisconsin Apple Growers Association represents 170 commercial apple growers from across the state.

Commercial orchards are found in 46 of Wisconsin's 72 counties, comprising about 7,400 acres and producing about 56 million pounds of fruit worth over $9 million per year. Because Wisconsin is a relatively small producer in the U.S., there is no state yield prediction for the 2020 crop.

Most of the Wisconsin's commercial acreage is found in four locations in the state, with concentrated areas being in Gays Mills in Crawford County, Door County area, Bayfield County, and in the greater Milwaukee area.

Wisconsin farmer, Steve Louis, a fifth generation owner of Oakwood Fruit Farm at Richland Center and the president of the Wisconsin Apple Growers Association, told the Wisconsin State Farmer in May, "We did see quite a bit of damage in our orchard this weekend. Some areas we have seen about 40% damage and other areas we are seeing as much as 90%. Not much we could do to prevent or protect the blossoms from the damage."

In northern parts of the state the apple trees were not as advanced and there was only minimal damage to the tips of the leaves, but the flowers were not out yet.

COVID-19 impact

The COVID-19 pandemic has brought many challenges for growers.

"They are worried about their own families, their crops, employee safety and consumer behavior to additional rules and orders in place to ensure both human and product safety," Smith says. "Our growers have risen to the challenge and worked even harder to bring apples to market safely this fall. Throughout the COVID-19 crisis, so many events and traditions have been cancelled, but nature doesn't get cancelled. Michigan's apple growers have continued to work through the crisis and apples continue to grow."

The pandemic has seen consumers stocking up on healthy staples, which has benefitted the industry, according to Smith.

"Consumers want to move through the store more quickly and seem to be buying more bagged apples than in the past," she says. "Many Michigan apples are sold in bags, and our industry is very conscientious about consumer demand, so we continue to respond to these trends. And of course, more consumers are thinking about taking care of their health and eating healthier foods, which is also great for apples. That's providing sort of a silver lining during all this uncertainty."

According to USApple, the industry continued the trend to adapt to consumer preferences by increasing production of Honeycrisp, which is expected to rise by 12 percent, moving it ahead of Granny Smith and Fuji into third place in national production.

Blumerick says, "During this pandemic, especially at the beginning, we saw consumption of fresh produce and apples increase. At the peak of the shutdown, Michigan packing houses were able to reliably deliver to markets throughout our communities. Seemingly, in part because of the pandemic, the appreciation of a reliable local supply, and the support from the public of local farms has increased."

The United States is predicted to produce 253.3 million bushels of apples in 2020 -- down 3 percent from 2019 and down 2 percent from the five-year average. Washington, as usual, is expected to lead U.S. production with 176 million bushels, down 3 percent from last year but up 5 percent from the five-year average.

Apples are grown in all 50 states and over 2,500 varieties are grown nationwide.