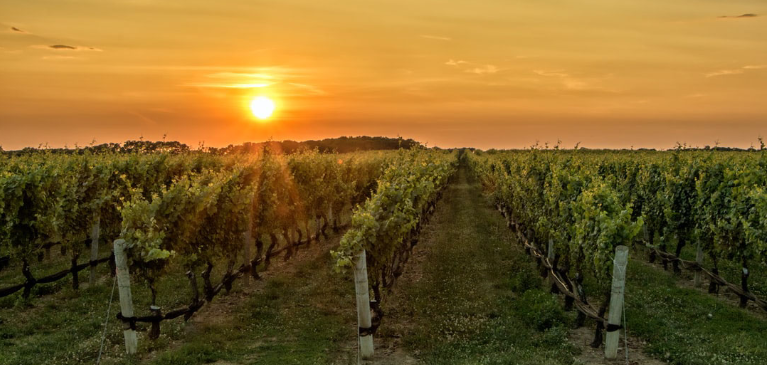 Wine Industry is Down, but Not Out
For businesses that couple agriculture and recreation – whether it be U-pick operations, farm experiences or direct sales – the COVID-19 pandemic provided a four-month punch to the pocketbook.
It meant eating into equity for many, including wine grape growers who add value to their harvests by making wine and selling direct to consumers at their tasting rooms.
At Lemon Creek Winery in Berrien Springs, Michigan, 90 percent of the wine made there is sold through the tasting room, according to Tyson Lemon, whose dad Tim Lemon, and Uncle Jeff Lemon, own both the winery and Lemon Creek Fruit Farm. The farm not only grows wine grapes, but seven other types of fruit in its U-pick operation.
Being closed from mid-March to June presented a cascade of problems beyond the dammed-up revenue stream. It meant staggering check-in times for farm employees and using people movers to spread out U-pickers. The tasting room, which was completely shut down for two months, is now open, but with visitors outside under tents sitting at socially distanced tables.
The winery started offering curbside sales in May and slowly opened in June. Tyson, who agrees people are sick of being cooped up, says July sales are back to being in line with last year's numbers.
Despite the return to pre-COVID-19 sales, "There's no way to reasonably make up for what was lost – 90 percent of our wine is sold in the tasting room," he says. Added losses may be down the road, as there is concern for a drop in wine grape demand.
"We utilize 20 percent of the grapes we grow for our wines and sell the rest to wineries throughout the Midwest," Tyson states. With retail sales through tasting rooms down across the country, those retail wine grapes may not have a home.
"Everyone in this business is burning through some equity," he adds. "There will probably be a fair amount of rebalancing or restructuring where needed. Newer ag businesses will have a little harder time because they haven't had time to build that equity and establishment."
Both the farm and winery received federal Payment Protection Program funds to help with employee payroll, and the winery received a grant from the Michigan Small Business Restart program to help retrofit the business by covering expenses in restarting.
A substantial loss
While the pandemic has taken a major toll, the wine industry still looks bright, according to Jenelle Jagmin, director of the Michigan Craft Beverage Council (MCBC). "Despite challenges, I expect the industry to continue to grow, wines will continue to get better and there will be more investments," she says.

Currently, there are close to 200 wineries in Michigan, with at least 150 using a majority of Michigan grapes, Jenelle points out.

Most of the state's wine grapes are grown in Berrien, VanBuren, and Leelanau counties, as well as Old Mission Peninsula and, to a lesser degree, in Allegan County. In a 2017 study, Michigan's wine industry is reported to have a $5.4 billion total economic impact, including bringing in $253 million in tourism-spending annually. Also, there were 3,050 acres of wine grape vineyards.

"There will be another study in 2020, and I expect those numbers to increase," says Jagmin, who attributes some of that success to Michigan's perfectly suited climate and soils for high-quality grapes. "Michigan is known for Riesling, Pinot Blanc, Pinot Noir and Pinot Grigio and many others," she adds.

Most of the state's wine grapes grow within 25 miles of Lake Michigan. The lake tempers the air along shoreline regions, protecting fall crops from harsh, early frosts, and preventing spring crops from blooming too early. Lake effect snow is important too, as it insulates vines from extremely cold temperatures.

New challenges have surfaced in recent years with climate change, states Jagmin, who notes significant winter damage to vines from three polar vortexes.

"But, growers are resilient, they network, they learn from each other and with a robust research program funded by the Michigan Craft Beverage Council, we are looking for ways for growers to endure harsh winters."

One way is through developing hardier hybrids. "Marquette is a red, rich wine grape that is being used more inland, like the Petoskey area, where they are more susceptible to harsher freezes," she says.

Risks in agriculture are multi-pronged, but the pandemic was one unforeseen. "Wine grape growers and wineries are creative and nimble – they have to be," comments Jagmin. "One positive aspect of the situation is that consumers and tourists seem to have an increased desire to support local right now."