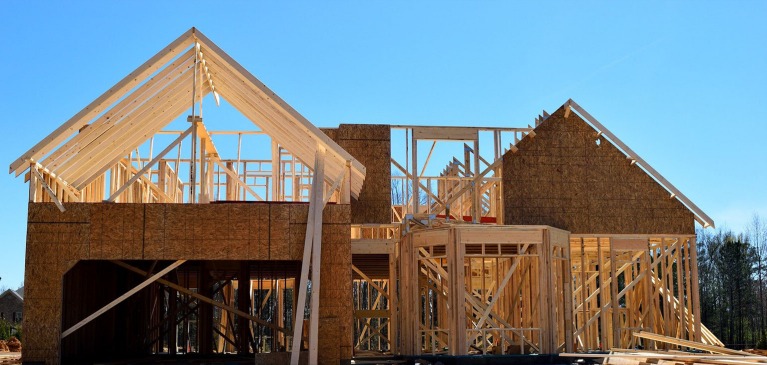 Ready to start building the home of your dreams but not sure where to begin?
Whether you're looking for the perfect house to raise your growing family, raise a couple of dogs or raise a cold one with good friends after a long week at work, GreenStone's home construction loans can help make it happen. Our flexible country living financing includes both contracted construction projects and do-it-yourself home builds, allowing you to choose the process that best fits your busy lifestyle.
Before you get carried away planning your perfect kitchen on Pinterest and begin shopping for your dream backsplash, there are a few things you'll need to keep in mind as you prepare for your build. GreenStone's country living expert and financial services officer, Miranda Kelle, is sharing the top must-dos when preparing for a construction loan and home build:
Get Pre-Qualified
Regardless of how early in the building process you may be, even if you don't yet have land or a builder picked out, your first step is getting prequalified. Although it may seem premature to get pre-qualified months before you will need the loan, a pre-qualification will help you and your loan officer do a check-up on your finances and determine your budget. That way, when you finally begin planning the construction process, you will know exactly how much you can afford.
Another bonus to getting pre-qualified early is you'll have time to take care of any surprise credit report items you weren't aware of, so you can work on getting your credit in tip-top shape. It's best to get pre-qualified 2-5 months before you plan on beginning the construction process.
For example, if you plan on building in the spring, you'll want to meet with a local lender toward the end of the year to start discussing your financial plans and building goals.
Prepare Your Land
Your next step is to begin preparing the land you plan to build on. Or, if you have not yet chosen your home site or still need to begin the search for your ideal location, your next step is to get online or contact a realtor to start the process.
If you already own the land you plan to use for your future home site, take time to consider what needs to be done before the building can start. Preparing the land looks different for each project, but typically consists of testing the land, clearing trees or getting improvements started. It is crucial to do this step 2-3 months before you plan to build so that when it's time to begin building, the land is ready to go.
Decision Time: Contracted or DIY
Once you've decided on a build site, it's time to decide which build option works best for you: working with a professional contractor or building your house yourself. Aside from these helpful considerations below, you might also want to take a look at our article, Financing Options for Home Construction, for more detailed insight into the DIY vs Fully Contracted options!
If you plan on working with a contractor, start researching builders in your area. Getting references or talking with the builder's previous customers, and asking to see homes the builder has previously built will give you a sense of their style and their price-point, and will help ensure the house plans they offer align with your home goals.
If you plan on taking the DIY route, there is quite a bit more homework to be done. You will need to start by researching the items you will need and gather the costs for each. It's important to keep in mind the costs could change between the time you prepare for the build and at the actual time of purchase, so crosschecking the prices for each item again at the time of your build is crucial. While DIY loans require more tedious planning and time, you might find yourself in a similar situation as homeowner Adam Ford and his fiancé Kelsey Ladley, who recently completed a DIY construction loan with GreenStone and benefited from better options that allowed them to do most of the work themselves.
Do Your Research and Ask Questions
The more homework and research you do up-front to prepare yourself for the construction process, the smoother the home build will be and the less likely you are to run into project setbacks. Whether you're doing a contracted construction build or taking on the challenge yourself with a DIY loan, understanding the construction process is key and your lender is a valuable resource- use them!

Miranda Kelle is a Financial Services Officer in Lapeer, Mich. If you are interested in learning more about GreenStone's country home mortgage, construction  or vacant land loans, call your local branch or click here for more help.