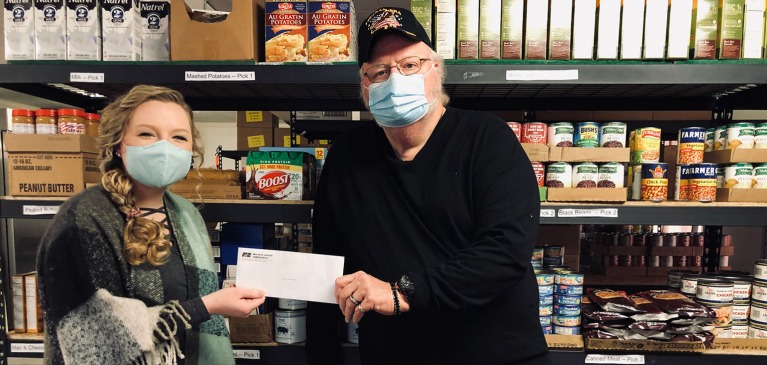 "It is nerve-racking volunteering in a new community, but it is one of the most rewarding things I have ever done," Taylor gratefully shared.

Taylor Martin, a business analyst who works in GreenStone's Cadillac branch, recently moved to Osceola County after getting married. While immersing herself into the new community, Taylor immediately yearned to give back. Volunteering has always been a large part of Taylor's life, and an action she values. From a young age, Taylor volunteered at multiple homeless shelters with her parents, where she enjoyed singing at the shelter, as well as, assisting with feeding the less fortunate.

Her parents instilled in her the value of helping others and being involved in her community. To stay true to her personal ideals, Taylor accepted a position as the young farmer chair for the Osceola County Farm Bureau. As the young farmer chair, Taylor's main responsibility is to hold events that involve young farmers in the area in order to bring together the community of famers. Taylor also helps provide support with legislative discussions, farmer development programs, and being a voice of the agriculture community.

"A few Michigan Farm Bureau districts near me recently decided to give back to our surrounding communities," states Taylor. "We held a fundraiser this year!"

Through this fundraiser, Michigan Farm Bureau raised over $6,000 to donate to local foodbanks. Osceola County Young Farmers played a large role in orchestrating the fundraiser and organizing donations. She personally delivered the check to a nearby foodbank and was thrilled to see the foodbank worker's reactions and smiles. She plans to make this fundraiser an annual event.

"I think one of the best things in life is to give to other people and then watch their reactions," Taylor says.

The GreenStone community has been inspired by Taylor's willingness to plan and coordinate volunteer efforts with the Osceola County Farm Bureau, ultimately assisting local charitable programs give to those in need. Taylor's actions truly align with GreenStone's core values of getting involved and doing the right thing.