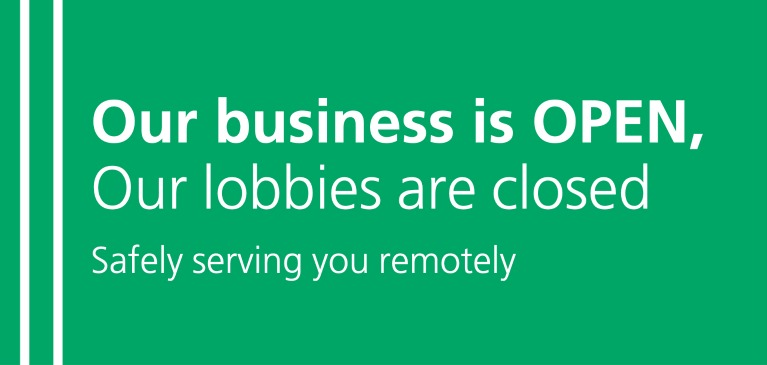 Customer COVID-19 Update
As the pandemic evolves at different rates throughout our territory, our service remains focused on safely providing you with the tools and support you need. We continue to follow safety recommendations to help protect our customers and employees, and to help slow the spread of the virus. Based on recent recommendations, our lobbies are closed while our business remains open to safely serve you remotely. Please call to allow us to provide you the best solution to your needs.
Options to Serve your Needs!
We have many tools to assist you; and when you need to meet with someone, we're prepared to safely serve you.
My Access customer portal and the NEW online banking system

Make loan payments and schedule transfers
Deposit checks
Monitor account balances and view loan account history and drafts
Send and receive documents securely
Set up account alerts for email or text
Update contact information

Electronic document exchange
Mail and drop box
Video conferencing
Phone and email
In-person meeting by appointment when a remote option is not possible
Call First!
While our lobbies are closed, our team continues to be available through the many options outlined above. Please call to find a solution best for your needs.
Check our Website!
Stay up-to-date on any changes to our offices and services by visiting the COVID-19 page on our website.

Whatever your needs, we remain dedicated to ensuring you have access to credit and financial services. Whether remote or in person, our staff are prepared with the technology and tools to support you and we encourage you to contact us!