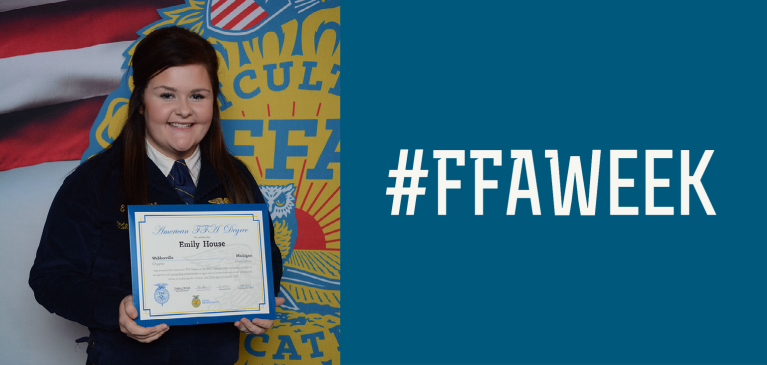 It is no surprise that GreenStone is a supporter of the FFA. We believe in the importance of contributing to the development of youth in agriculture through this program, and our employees strive to do the same. Emily House, a credit analyst in East Lansing, is no exception. She has been devoting her life to service through the FFA since she joined the program in 2009.

House was an active member of the Webberville FFA program ever since her sister signed her up for the broiler contest in 2009. From there, however, Emily carved her own path in the program by becoming active in leadership contests, officer leadership positions, and spring skills contests.

"Joining the Webberville FFA has been one of the most important decisions I ever made." Says Emily. "I am in a fulfilling career, surrounded by a strong support network because of the skills I developed and relationships I built while participating in contests, servings in leadership roles, and attending conferences. Many of my most treasured high school memories were made in the iconic blue corduroy jacket."

Her involvement in the FFA program did not stop in high school, however. Emily went on to serve the Michigan FFA Association as the Region IV State Vice President.

"Serving as a state officer, I had the unique opportunity to meet people from not only Michigan but across the country. Learning about agriculture from those individuals opened my eyes to the unique farming practices utilized in various geographical regions of the country. I was also exposed to the many career opportunities available in the agriculture industry," Emily shared.

Upon her year of service ending, Emily gave back to the organization once again as she worked in the state FFA office, served on the Michigan FFA State Convention staff, and then became the Michigan FFA State Convention director for her last two years of college.

Today, Emily still volunteers her time to the FFA through contest judging opportunities and nominating committee positions. She truly exemplifies the phrase "living to serve."



"Two of my passions are agriculture education and student mentoring. There is no better way to combine those passions than to give back to the organization that changed my life many years ago. I am proud to be a part of an organization that combines classroom learning, hands on experience, and leadership development to give students the skills they need to be successful in life."

At GreenStone, we believe it is important for employees to be engaged in service activities benefiting the communities and individuals we serve. This mission directly aligns with our Core Four Values:

Customer First • Deliver Quality • Get Involved • Do the Right Thing



Thank you, Emily for your dedication to the FFA, your community, and for living out our core values!