"We have all been taught from a young age that in farming we need to do what's right. If we take proper care of our land and water, it will take care of us," said Ethan Haywood.
For six generations, Sand Creek Dairy LLC in Hastings, MI has been "setting up the next generation for success." With three generations actively working on the farm today, and generations four, five, and six serving as active partners and managers, it is clear they are doing something right.
As dairy farmers, the Haywood Family takes pride in ensuring both the land that they utilize to grow crops and the 1,200 holstein and jersey cows they raise are provided with the correct nutrients needed for safety, longevity, and success. Sand Creek Dairy LLC utilizes maximum technology to help aid in this cause. For example, at the beginning of each planting season, the soil on their farm is tested for available nutrients. This practice allows for manure from the farm, their main source of fertilizer, to be applied at a rate that is best for the soil and for the plants that they plan to grow. This long running practice ensures the upmost safety for the soil and watershed, along with soil health for generations to come. Upon harvest, cover crops are planted as another measure to provide essential nutrients back to the soil.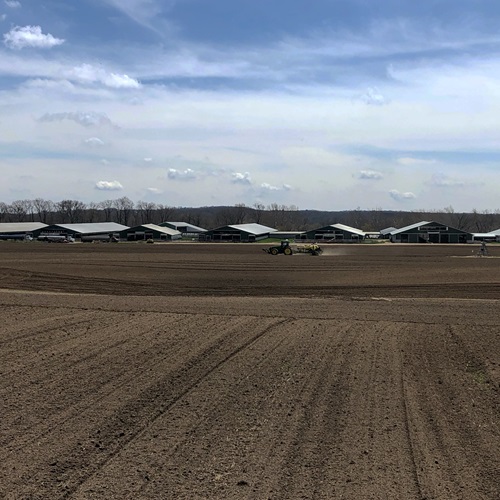 Sand Creek Dairy LLC on a beautiful day.

In addition to ensuring soil health, Sand Creek Dairy LLC puts emphasis on maximizing the life of water on the farm. To provide superior comfort for their livestock, their cows are bedded on sand. This sand can be washed and reused thanks to the runoff water from their feed storage and water used in the parlor and milk cooling system. Their efforts do not stop with washing and reusing the bedding, however, the water from this process it utilized a third time to irrigate crops. This process reduces the use of additional fresh water for these processes and allows bedding to be cleaned and reused time and time again.

Sand Creek Dairy LLC, like many farms, utilizes practices that maximize efficiency, protect our valuable natural resources, and provide back to the land. As shared by Ethan Haywood, Sand Creek Dairy LLC co-manager, "Our focus has always been to set up the next generation for success, and the land we farm and is a large part of that goal."

Farmers care about the future of our land, air, and water, and the Haywood Family is no exception.