Logging has been a part of Cameron Morford's family ever since he can remember. In 1967, Cameron's grandparents bought 40 acres of forest property with a cabin in McMillan, Michigan. While his family has never worked full-time in logging, both his grandfather and his father logged the land throughout the years and, when it came time for Cameron to take over the land, he knew he wanted to expand upon the original 40 acres. That is when his relationship with GreenStone began; Cameron bought an additional 160 acres of land, financing it through GreenStone.
"GreenStone has been a huge partner for us to work with setting up the property and then financing it and making it work," Cameron emphasizes.
After purchasing the additional land, Cameron recognized he needed to set the land up as a qualified forest. Coincidently, while looking through his email one day, Cameron discovered the Grow Forward Grant program from GreenStone.
"At first I didn't really pay attention to it, but then I noticed that I qualified because it is just a small family tree farm," he explains.
Since 2018, GreenStone's Grow Forward Grant program has awarded up to $40,000 annually to assist young, beginning, and small farmers expand their knowledge and grow their business through educational events and professional resources. Using the money from the grant, Cameron was able to work with Grossman Forestry to formulate a forest plan and work with a consultant.
He explained that an area can only be logged once every 12-15 years, so it is important to have a plan and experience. The Grossman Forestry consultation enabled him to build upon the knowledge he already possessed from growing up around logging and learn through hands-on experience with experts.
"[The Grow Forward Grant] helped me pay for the forest plan I needed to set it up in qualified forest and the consultation for the logging," Cameron says. "It really helped to offset that cost."
In the end, Cameron's goal is to keep the farm in his family. He, his wife, and his four children spend a lot of family time at the cabin and he hopes to pass the logging farm down to his sons when they are older. In fact, the cabin on their property is over 100 years old. Originally located on Beal City Lake in central Midland, Cameron and his sons moved it to the Upper Peninsula log by log and put it back together; a seven-year family operation.
When asked about advice he would give to someone thinking of applying for the Grow Forward Grant, Cameron said, "Definitely do it because it is a huge benefit and you learn a lot."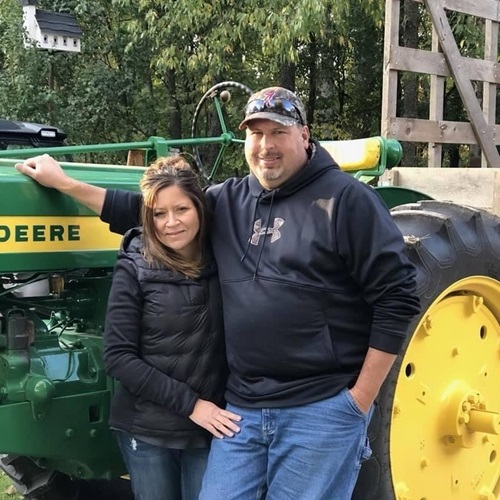 Cam and Kerry Morford

GreenStone looks forward to supporting young, beginning, and small farmers like Cameron as they expand their knowledge and strengthen their business. Visit the Young, Beginning and Small Farmer webpage to learn more about the specialized loan programs, grants, mentorships and resources offered to YBSF customers.