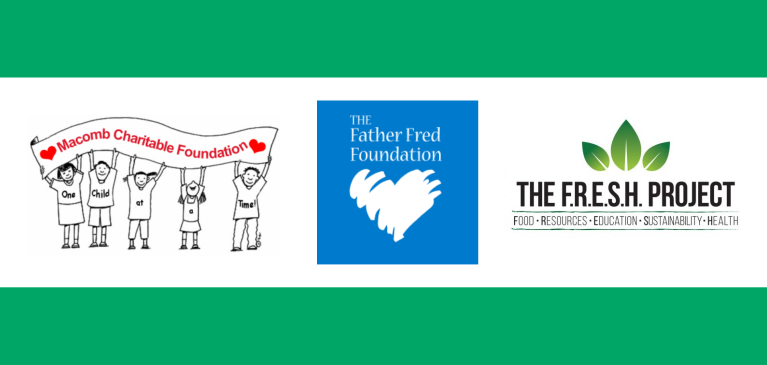 As we wrap up Patronage for the month of March, we are excited to announce the voting results from the 2021 Member Grown Outreach program and celebrate how Partnership Pays with GreenStone.

GreenStone's Member Grown Outreach program began with our staff nominating three organizations throughout Michigan and northeast Wisconsin that make positive impacts in the community. Starting on Patronage Week, March 8, through March 19, members were encouraged to vote for one of the organizations they wanted GreenStone to support through the cooperative's $20,000 donation. The dollars split between these three organizations are based upon the voting results and will assist each organization is fulfilling their mission.

"Regardless of the donation size, I just want to say thank you for what GreenStone is doing for the community. Groups such as ours relies on these donations to keep us going every year," states Shelly Penzien, founder of the Macomb Charitable Foundation. "I am going to speak for all three of the organizations when I say thank you so much for all you do!"

With the participation of both employees and members, GreenStone is honored to help these causes as they continue to make a difference in the surrounding community. Thank you to all members who participated in voting this year and got involved in GreenStone giving back through this program. After receiving nearly 600 member votes in March, the results are in.

Drum Roll Please!

$10,000 - The Father Fred Foundation

The Father Fred Foundation, located in Traverse City, Michigan, is aimed at listening to the people in need, caring for what they have to say and are in need for, and then sharing their services to provide the best care possible.

$6,000 - The F.R.E.S.H Project

The F.R.E.S.H. Project, located in northeast Wisconsin, brings nutritional and fresh produce to their local communities while supporting their local farmers.

$4,000 - The Macomb Charitable Foundation

The Macomb Charitable Foundation, serving Macomb County in Michigan, is an organization in place to specifically help children who are living at or below the poverty level. Congratulations to the three organizations who were nominated for the 2021 Member Grown Outreach program! GreenStone is proud to support what these organizations stand for and help them as they continue to be influential to the world around us.

Stay tuned for more blogs about these organizations in the coming weeks!