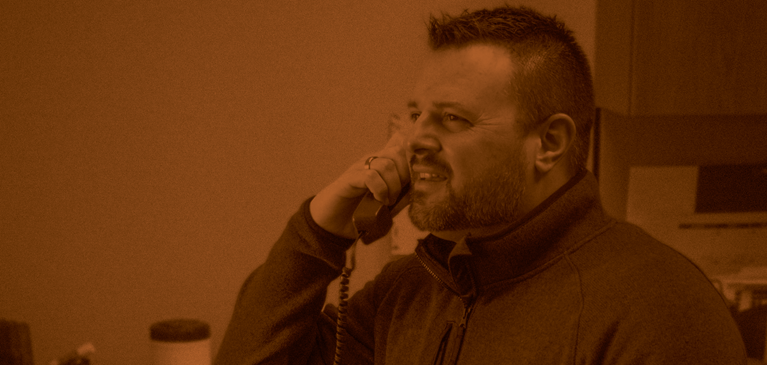 Through the eyes of Shaun Gainforth… GreenStone Financial Services Officer serving members from the Caro branch.

My motto has always been: simplicity and speed. I like to impress my customers with how efficiently we can meet their needs and how quickly we can get the money in their hands. With the technology we're now using, it is just that much easier and faster. It's a win-win for everybody!

The Pivot

Just days after GreenStone's Patronage Day 2020, a week ahead of the first COVID-19 related Executive Orders that led GreenStone to close all branches and move to remote customer service, Shaun's branch in Caro, Michigan was one of the very first to close in March.

I remember it like it was yesterday. It was Friday the 13th and our branch closed. I've worked at home 100% since then.

Like many people, our first reactions were very uncertain. We were anxious about everything; it was uncharted waters. But then I thought, 'OK, this is only going to be for a few days, maybe a few weeks.' Well, here we are a year later!

My coworkers were and still are awesome - we all took it in stride. Most customers were accepting and supportive of why I wasn't sitting in the office for them to come visit.

It was amazing how fast our Information Services (IS) team was able to help everyone get set up to work from home with our computers, monitors, printers, and phones. It was all technology and tools we already had, we just had to be reminded (and sometimes taught) how to use it. The ability for us to answer the office phones from home was really amazing and nobody really even had to know we weren't in the branch.

For those customers who still wanted or needed to, papers and payments could be dropped off to the office to be collected daily by a teammate. That gave customers peace of mind knowing their needs were getting taken care of, regardless how they choose to do business with us!

I used to get questions about when I'll be back in the office. But then they quickly realized the level of service I can provide regardless of where I'm working. Our customers appreciate the efficiency and are now asking why I'd ever go back to the office.

The Forced Success

The challenges of the pandemic forced us to utilize all the tools. We quickly learned just how efficient we could be. Technology helped us simplify the steps and shorten the time to provide financing and services to customers. It's just unbelievable what technology we have at our fingertips – most of which I had barely used. It's been fun; a good challenge to learn how to use the tools we have to meet customer's needs.

Customers were pretty receptive to doing things electronically! I don't know how many hundreds of conversions I did last year and most of them got signed electronically. I can't think of anybody that was hesitant at all. In many cases, we are getting things done even faster, which is impressive to the customer. This is going to change everything long-term, not just when we're at home!

The Discomfort

Although I was new to most of the technology, the biggest struggle for me those first 30-45 days was simply working at home. I had no place to work. I started on my couch, then claimed a spot on the kitchen table. It was uncomfortable; I couldn't concentrate. And my 3-year-old daughter was eager to play all day long. I was out of my element.

After a few weeks, I realized this could go on for a while and I needed to create the right environment to be efficient and get work done. I'd say that realization was the turning point for many of us. I cleaned out our small storage room in our house, set up a table with my computer, monitors from work, keyboard, mouse and office chair…and closed the door.

For me, it needed to feel like I was sitting at my desk; since then, things have just flowed.

The Connection

There was little warning, yet business must go on. Being forced out of the comfort zone created opportunities for more effective customer connection than would have otherwise been considered.

I was about four months into refinancing a sizable account from another lender when the full effects of the pandemic hit, necessitating all new communication techniques. Everything was done electronically. I hadn't held three-way conference calls before, but we did it. I can't tell you how many Zoom and WebEx video conferences were streamed. Loan papers and documents were sent securely online.

Customers embraced the "new" ways of collaborating. With multiple parties involved, and in different states early in the pandemic, the technology actually helped get them to closing even faster than if I had been in the branch and sitting down with the customers. They were thankful for the tools we had.

It was only at the closing that we all met… with masks.

Glancing Back, Gazing Ahead

I'm proud!

GreenStone stepped up to this major challenge and delivered. I give a big kudos to our IS team who had us prepared to serve our customers efficiently. We've proven how adaptable we are. We are ready to take on whatever challenges are out there and continue to perform!