To celebrate GreenStone's 2021 Member Grown Outreach program, we would like to fully introduce each of our organizations that were nominated this year.

The Father Fred Foundation, located in Traverse City, Michigan, serves five counties in Michigan including Antrim, Benzie, Grand Traverse, Leelanau, Kalkaska Counties. They focus on listening to the people in need, caring for them and providing the best solutions possible through their services. They offer food, clothing, financial services, paying off their bills, and so much more. The Father Fred Foundation supports and welcomes families and individuals of all backgrounds.
"We listen, we care, and we share. We strive to help everyone who comes to Father Fred seeking assistance so that no need in our community is unfulfilled. We honor the legacy of Father Fred by treating all people with dignity and respect, while nurturing hope and working with humility."
The Father Fred Foundation's mission speaks true to what they stand for and who they help. Devoted to listening to what people need, they make sure individuals within their community know they are cared for, and in turn, provide resources to them giving them the support needed to keep going.
"Everything we offer is free of charge; we are here to help those who are not as fortunate as others in their true moments of need," states Executive Director, Candice Hamel.
The Father Fred Foundation looks to seek out those in need and help them take one step further in our world, whether that be providing them with food for the week or even paying their bills. Having everything free of charge is something they stand by. Consisting of seven staff members and over 200 volunteers at any given time, the foundation is heavily reliant on donations since they are not government funded. When it comes to raising money for their foundation, they put on several food drives every year and rely heavily on donations.
As stated in our earlier blog regarding the Member Grown Outreach program voting results, The Father Fred Foundation was awarded a donation of $10,000 after receiving the most votes from GreenStone members!
"This donation will be used to support our pantry program, to provide perishable items like fresh fruits and vegetables, dairy and meat. Our goal is to help reduce food insecurities so individuals and families won't need to choose between whether to purchase food or pay other necessary bills," Candice explains. "Being food insecure means that families or individuals spend their money on bills or other items on their list that need to be paid such as rent, electric, prescriptions, and more rather than getting groceries."
GreenStone is honored to be able to help the community who are truly devoted to making a difference. For more information on donating, follow this link: Donate | The Father Fred Foundation
Stay tuned to read about the other organizations that participated in the Member Grown Outreach program in the coming weeks!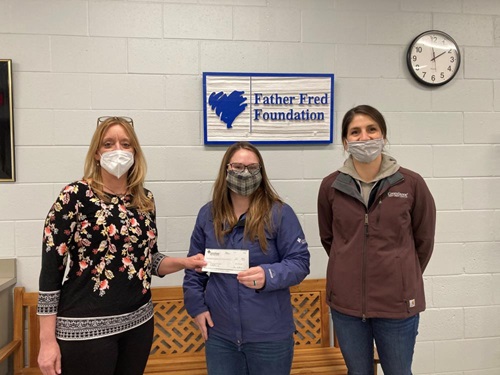 Emily Dreves and Autumn Rector handing off the Member Grown Outreach check to Candice Hamel.