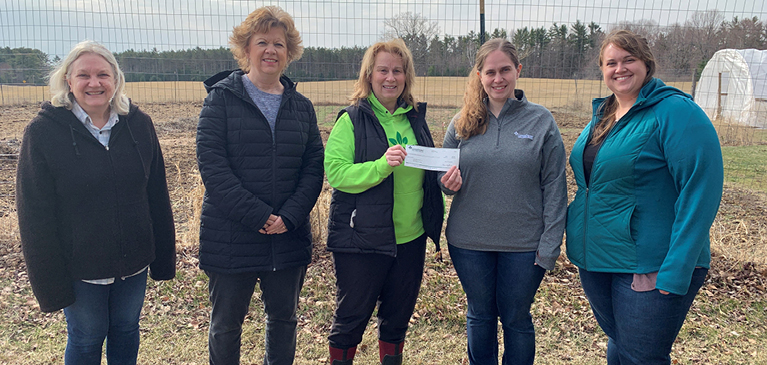 Pictured above: Sun Hennigan, Becky Dillenburg, Barb Mendoza, Heidi Pettis, and Kellie Zahn.

The F.R.E.S.H Project, located in the Shawano and Menomonee Counties in Wisconsin, brings nutritional and fresh produce to their local communities while giving back to their local farmers. F.R.E.S.H stands for food, resources, education, sustainability, and health. Their team and volunteers educate families and individuals on the benefits of healthy eating, in addition to teaching about the food and the farmers who raise it. By doing this, they increase food security and engage those in their community.

The F.R.E.S.H Project's mission is: Bridging food resources to secure local needs through partnerships with rural farmers and community organizations. Barb Mendoza, the Executive Director at The F.R.E.S.H Project, states, "We try really hard to get fresh produce and locally grown meat to our food desert areas, which are places that do not have access to many nutrient dense foods."

The F.R.E.S.H Project purchases healthy foods from their local farmers and set up mobile markets in these food desert areas for those who don't typically have access to nutritional food at lower prices. By providing these areas access to healthy foods, they are also supporting their local farmers by purchasing their crops, produce or meat.

In order to raise money for these funds, The F.R.E.S.H Project host a 5k run each year, set up booths at farmers markets, organize several BINGO nights, and much more. They also rely heavily on donations and if interested in donating to this wonderful organization, you can follow the link here: Donate (thefreshproject.org)

As stated in GreenStone's earlier blog regarding the Member Grown Outreach program voting results, The F.R.E.S.H Project received the second highest votes from members during the Patronage celebration! As a result, the organization received a $6,000 donation to help them fulfill their commitment to the community.

"This generous donation will go toward the expansion of our mobile markets in the food deserts and toward our CSA program," Barb explains.

The CSA (Community Supported Agriculture) program is a membership to receive boxes filled with fresh, local produce and meat, the ability to receive discounts on these healthy foods, learning how to cook these foods, and helping the farmers decide which crops to grow based on your interests.

Educating the community on how important nutritious foods are for your body is something the F.R.E.S.H Project prides itself on and this donation will help them continue to accomplish this. GreenStone is honored to help them make a difference in the community while supporting local farmers.