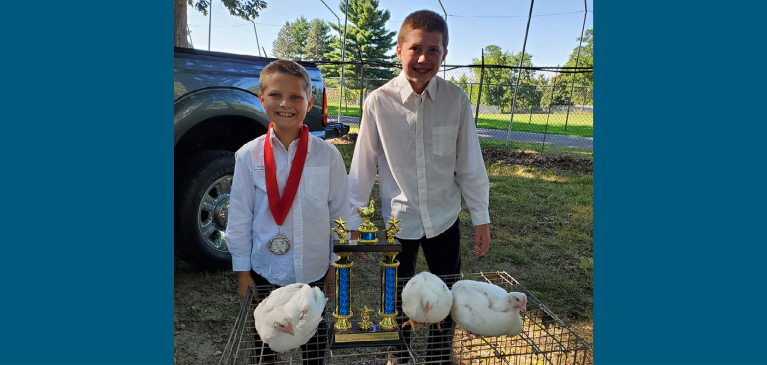 While excited to share valuable information regarding his FFA experience, it is not a surprise that Alexander received one of very few SAE national grants from Farm Credit. These grants are for those who want to expand their SAE in some way, and Alex wants to do just that. Alex Finch, an 8th grader from the town of Marshall, Michigan has been involved in FFA for two years now. He spent time sharing how FFA has helped him gain skills for bettering the agriculture community around him.

Q&A with Alex:

Q: What is your favorite part about being in FFA?

A: My favorite part of FFA is the broiler chicken contests, where we raise birds and bring them in to be judged on specific attributes such as weight, uniformity, and more, as well as a project write up at the end. This contest makes it fun to raise my chickens since I know that a competition is involved at the end.




Q: What has been the best volunteer experience you have been a part of in FFA so far?

A: I love volunteering in December at the Merry Mile at the Calhoun County Fairgrounds in Marshall. The Merry Mile is a fundraiser for the fairgrounds where they put up a huge drive through light display. This year I helped the FFA decorate a tractor with lights, as well as worked at the admission booth. This fundraiser helps the fairgrounds have funds to put on other great events throughout the year. At the fair, I get to take care of animals and watch the shows, as well as meet new people.




Q: Why do you think people should get engaged with FFA?

A: I have gained so many new skills since I have been in FFA. I gained leadership skills, I've been educated on how to work well with others, I've been able to learn how to take care of animals and have been taught all about what hard work means and looks like. You meet so many great people who help you to learn more about agriculture and animals.




Q: How will this grant help you in the future?

A: This grant is going towards building a new facility and purchasing supplies and equipment to help raise my chickens. The new facility will be built at my house in Marshall. I am very grateful for this grant so that I can learn more about raising chickens and doing it with the correct materials.

Alex's mom, Lora Finch, states "FFA is a great program and we really appreciate private businesses that support it so that we can teach kids about agriculture, whether or not they will be involved in the field when they grow up. It is very important that kids have knowledge about agriculture and be appreciative of the field".

Congratulations to Alex for his determination and success in receiving this grant!