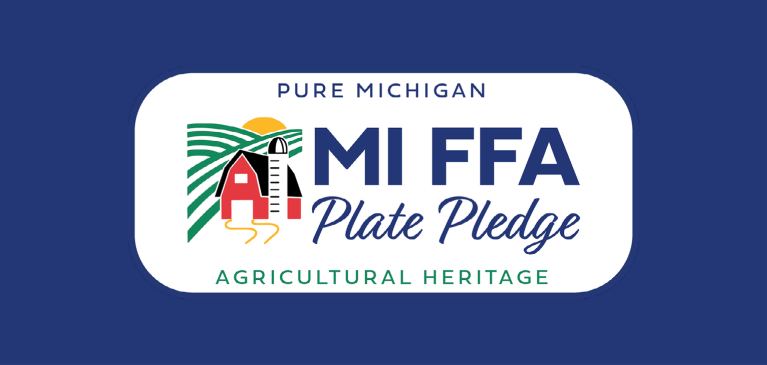 The Michigan FFA Foundation, the fundraising partner of the Michigan FFA Association, has recently kicked off a campaign to rally companies and individuals alike to "Make the Plate Pledge!" Thanks to recent legislative updates, fleet vehicle may now utilize cause plates, such as the Agricultural Heritage license plate! This update ensures that agricultural supporters, as an individual or business, can partake in this great cause.

With $25 of your initial purchase, and every $10 annual renewal fee, going back to the Michigan FFA Foundation's Glassbrook Endowment Fund, the impact is great. Since its creation, the license plate program has generated over a million dollars for the Endowment! As shared on the Michigan FFA website, "The Glassbrook Endowment seeks to provide every Michigan citizen a basic understanding of the food, fiber and natural resources segment of our economy. In addition to training youth for jobs, the endowment will enhance the academic preparation of every student by providing educational experiences related to leadership development, problem solving and decision making." Making this plate switch demonstrates your commitment to agriculture, its 8,600 students, and Michigan food and farmers.

All it takes is the switch from a regular license plate to an agricultural heritage plate in the state of Michigan.

Switching your plate is as easy as filling out and mailing this form! For more information about the Agricultural Heritage license plate or the 2021 Plate Pledge, contact Kyle Schaberg, Michigan FFA Foundation assistant director of development, at 517-432-2482 or schabe23@msu.edu.

Switch your plate to make the plate pledge, today!