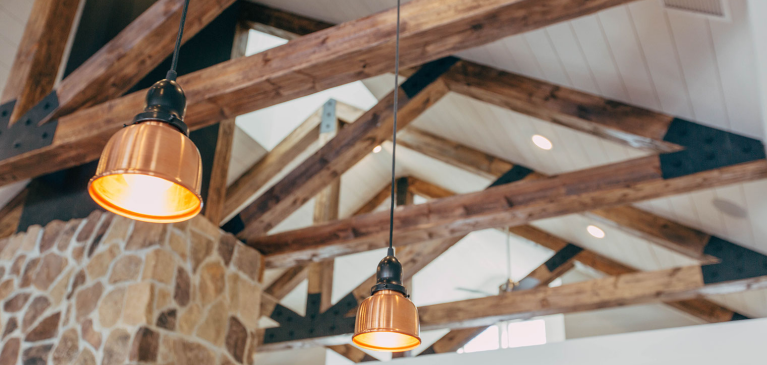 "Were you raised in a barn?" may have been a popular sarcastic comment in the past but today, growing up in a barn (home) can be very desirable! Barn homes, also known as barndominiums and barndos, are rapidly gaining in popularity across the country. Barn homes can offer soaring ceilings with unique wide-open living spaces, speedier exterior construction and other attractive options. Functionally, the potential to combine work and living spaces or storage for recreational vehicles in one building is also appealing to many consumers.
If you are interested in building your own barn home, you may have a lot of questions. Our GreenStone rural lending experts have answers!
What are the primary benefits of building a barn home?
In working with our customers, realtors and builders, we've identified several features drawing families to barn homes:
The exceptional open floorplan designs and soaring high ceilings that can be accomplished because barn homes do not require interior load-bearing walls is one of the most touted benefits.
Speed of construction is another - barn homes exteriors or "shells" can often be built more quickly than a traditional home.
They are sturdy and long-lasting; their steel exteriors can last up to 40 years without maintenance, such as new siding or roofing required on traditional homes.
Superior insulation options can result in higher energy-efficiency.
Depending on the design and materials used, barn homes can be more affordable than traditional stick-built homes.
Is a barn home always cheaper than a traditional stick-built home?

Cost to construct a barn home depends on many factors. Like traditional homes, barn homes can range from small and simple rectangular designs, to huge, extravagant living quarters with complex rooflines, custom windows and spacious porches. The quality of materials used for flooring, walls, cabinets, windows, roofing, ceiling and lighting can all affect the final cost. In general, a barn home can be less expensive than a traditional home per square foot, but cost does depend on materials used, customization and amount of labor required, and size of the home.

Does GreenStone finance barn home construction?

GreenStone offers financing options for the purchase or construction of barn homes of at least 1,000 square feet that include at least two bedrooms. Financing options are available for up to 30 years for both the home and any amount of acreage for the home site.

How much is the down payment for a barn home?

At GreenStone, a standard down payment on a barn home is 20% to 25%. While some traditional home loans do qualify for PMI (Private Mortgage Insurance), which can be used to decrease the down payment to only 5%, the PMI option is not available for barn home loans. In addition, you will need to consider the appraisal results impact on the cash needed for the complete down payment.

A home's expected appraisal value after construction, called "as will be" appraisal, is partially based on the value of comparable homes in the area. Because barn homes are still relatively new and less common, and few have been resold to date in most areas, it may be difficult for the appraiser to find comparable homes on which to base an accurate appraisal value. This may result in a conservative appraisal value below the actual cost to build the home. That difference will need to be paid in cash on top of the standard down payment.

How are barn homes taxed?

Barn home valuation may consider only the living areas of the building or could include the entire property, depending on the regulations in your city, township or county. It is a good idea to research barn home tax costs before construction begins to understand the long term property tax requirements.

What size and type of barn home can I build on my land?

Your county or township's zoning regulations will inform what size and style your structure can be. If you intend to build a combined-usage barn home, for example a barn including both living quarters and a horse stable, or living quarters and a public retail or service space, check with your local zoning authorities to confirm such combined usage is allowed. Variances on existing zoning is possible, but exceptions can be difficult and expensive to achieve.

What other things should I think about when considering a barn home?

The native core structure of a barn home is different than a traditional home, resulting in some limitations to what one might normally expect with a home. Most barn homes are built on a cement foundation, not a basement, due to the post-frame construction style. Typically, if you desire to add drywall, extra framing is needed between the posts, which are usually placed 8 feet apart rather than 18" – 24" for traditional homes; this can be an added expense. Insulation costs can be higher, as pole barn walls are thicker than typical home 2x4 construction (as a benefit, however, this can also result in lower heating and cooling bills). You may also need to add a vapor barrier to keep out moisture, and some builders consider this an upgrade; check with your builder in advance about vapor barriers to avoid costly surprises.



Building a barn home can be an exciting and rewarding experience, resulting in a unique and enjoyable dwelling when work is finished. Carefully researching and asking the right questions before construction begins can help ensure a positive outcome.

To learn whether your plans will qualify for a GreenStone construction loan, contact your local branch or call 800-444-3276.