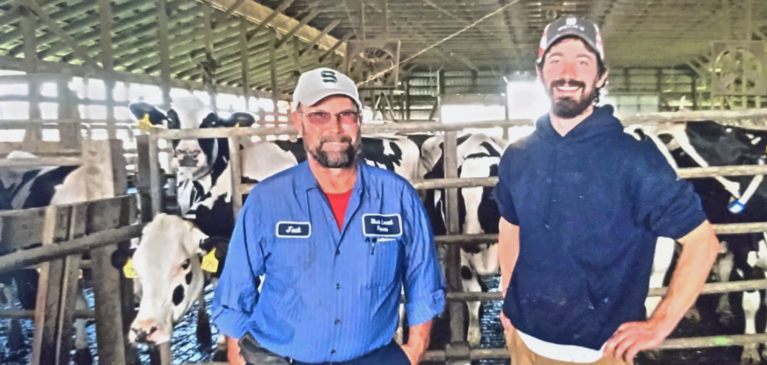 Throughout life we all learn valuable lessons from our successes and mistakes, and the best way to help others is to share those lessons we have learned. The mentorship program at GreenStone establishes a way for industry leaders to share their lifetime of these lessons and knowledge with young, beginning, and small farmers. The current 2020-2022 mentorship class is wrapping up in April, but the relationship built during the 18-month program will last a lifetime.


Nick Pasch joined the program as a mentee in hopes of gaining a new perspective on his dairy operation from his mentor. He currently milks 350 head while also farming about 1,600 acres of corn silage, haylage, and occasionally cash crop. Nick was raised in the dairy industry, but still felt like there was more he could learn to better his farm.


"Every operation is different. Seeing how they operate and how they do things differently is a main reason why I joined the program," said Nick.


He was paired with mentor Jack Jeppesen, a dairy farmer with decades of experience. He owns and operates a 720-acre farm and is extremely involved in his community. He serves on multiple boards within the community while also making sure he spends time with his seven grandkids. Jack and his wife believe giving back to the community is very important, and he was humbled to be asked to serve as a mentor for the program.


"More people, especially young people, need to get involved in farming and agriculture, but it's hard to start a farm in today's world, especially if you weren't raised on one. I think it's extremely important to help the younger generations in agriculture, and we can all learn from one another," said Jack. "I was so humbled to be asked to be a mentor for the program, and I really encourage others to give back when given an opportunity like this."


The advice and lessons learned during the mentorship program don't always focus on the right and wrongs of farming operations. Sometimes the most valuable advice is simple life lessons. Jack gave Nick a life's worth of advice, but the one lesson he stressed the most was, "make time for yourself."


"You have got to make time for yourself with your family and friends. Don't overwork and get burnt out," Jack explained to Nick.


"I really wouldn't say I ever call Jack and ask what to do with a sick cow, for example," said Nick. "But I always call him on life advice, like what to do during a disagreement with one of my partners or how to handle and motivate employees."


Mentors also benefit from the partnership. Jack and Nick go through the same industry rises and falls. For example, when the milk prices were bad, Jack and Nick were right there together through the tough times.


"Just having another ear to listen and knowing someone else is going through the same thing, and having them to talk to is really beneficial," Jack said.


To learn more about the program, contact your local financial services officer or read more on the CultivateGrowth Mentorship webpage. Applicants are now being accepted for the next class, which is set to kick-off this fall, through the sign-up on the webpage.