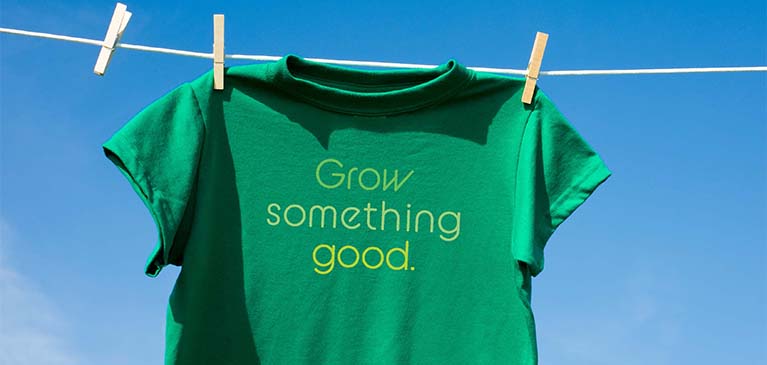 GreenStone developed the Impact T-Shirt Campaign with the goal of bridging the gap between GreenStone employees and youth who are growing something good within themselves, others, and their communities. GreenStone not only recognizes the good youth are doing within their communities, but we want to celebrate them. To do so, GreenStone will be handing out Impact T-Shirts to youth who stand out among their peers for embodying the phrase "Grow Something Good".


Grow Something Good

Each T-shirt is adorned with the saying "Grow Something Good". In today's world, we need to highlight all the good we can and keep encouraging youth to continue positivity. So, what does the phrase "Grow Something Good" mean? Well, it can mean an array of things. We want to ensure that we recognize and reward youth of diverse backgrounds and interests that exemplify positive characteristics such as hardworking, kind, giving, or reliable. Growing something good can include youth who volunteer within their community, portray leadership inside and outside of the classroom such as within 4-H or FFA, or even as simply giving a helping hand when needed or without being asked.


Show Us Something Good

Have you been recently awarded a Grow Something Good shirt? We congratulate you on making a positive impact within your community and encourage you to continue the great work!

You may find yourself wondering what to do next. Well, you can start by sharing a photo of yourself in your T-Shirt on Facebook or Instagram with the #GrowSomethingGood. In the caption, explain the good that you have been doing within the community! Don't forget to give a shout out to the branch that awarded you with the T-Shirt as well. You can also send your photo and story to marketing@greenstonefcs.com to be featured!

As we begin receiving submissions this blog will grow with some of the stories showing us something good. This page will be a platform to showcase the positive and inspiring acts being completed by youth. By sharing these stories, we hope to inspire more youth to make a difference in the world.