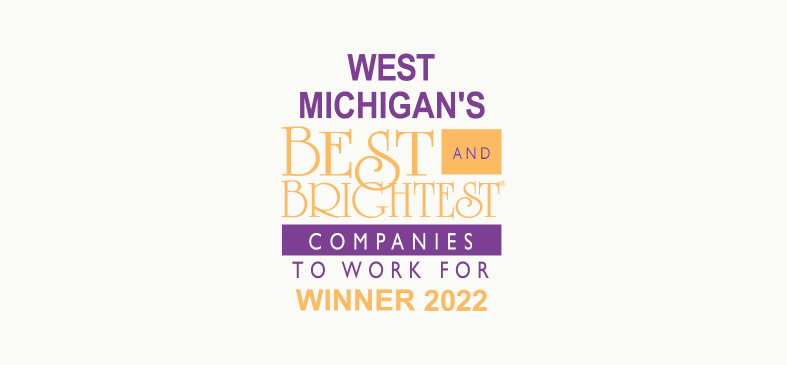 GreenStone is proud to be named one of the 2022 Best and Brightest companies in West Michigan. This award celebrates companies that provide excellence in employee opportunities and benefits. The Best and Brightest award scores potential winners based on regional data of company performance and a set standard across the nation.

The winning companies were assessed by an independent research firm, which reviewed several key measures relative to other nationally recognized winners. The categories applicants were scored on include: Compensation, Benefits and Employee Solutions; Creative, Wellness and Wellbeing Solutions, Employee Enrichment, Engagement and Retention; Employee Education and Development; Recruitment and Selection; Employee Achievement and Recognition; Communication and Shared Vision; Diversity, Equity and Inclusion; Work-Life Blend; Community Initiatives and Corporate Responsibility; and Leadership, Strategy and Company Performance.

"We are honored to be named one of the Best and Brightest companies in West Michigan," said Beth Barker, executive vice president and chief human resources officer. "We strive to create a positive work environment at GreenStone, and it is great to see where we stand on a national scale."

This accolade is thanks to GreenStone's strong commitment to teamwork, work-life balance and leadership from staff who strive to make GreenStone a better place each day.

Current GreenStone former president and CEO, Dave Armstrong, is retiring after 41 years with the Farm Credit system. During that time, he has played a major part in creating the outstanding work culture GreenStone has today. "Through my time at GreenStone, it has been great to experience the sense of pride employees have for their work, their teams, and their communities,." Armstrong said. "I am proud to have been part of this inclusive team."

GreenStone Farm Credit Services celebrates 106 years of service in 2022, as the Farm Credit System was established in 1916. GreenStone employs approximately 600 people in locations around Michigan and northeast Wisconsin.